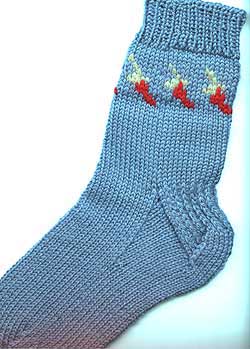 by Erica Corbett
Note from Sarah: The sample sock was knit with different yarns than those in the pattern, since we don't have Woolease in Australia. I used DK weight Patons Fireside for the sock, Cleckheaton Country DK (red), and a scrap of green acrylic for the top of the peppers.
The basic sock is based on the instructions in Socka book #20. (Allow me to plug this book – it has a very clear, very good basic sock design for different weight yarns and different size feet). It will fit a "woman's medium" (approximately a woman's 8 U.S. size).
Gauge
5 to 5 1/2 sts per inch. Don't knit too tightly over the colorwork (you may want to switch to a size 6 needle if it gives you trouble). If you have large calves or are knitting for a man, you could add in either another repeat (another 8 sts to give 56) or add another single plain blue stitch after each chilli pepper ( to give 54 sts)
Materials
2 balls "Blue Mist" Wool-Ease (it took slightly under 100 g total, I would estimate).
1 ball "Cranberry" Wool-Ease (only a small amount actually needed)
1 ball "Hunter Green" Wool-Ease (again, only a small amount actually needed)
A set of 5 double pointed needles, size 5 (Note: I greatly prefer using four needles to hold the stitches; the angle at which you work is much more comfortable, but if you only have 4 needles, combine the instep sts on a single needle)
Tapestry needle for weaving in ends.
Method
Cast on 48 sts with blue. Rib in K1 P1 rib for 12 rows.
K four rounds plain.
Attach in green (and later, red) and follow the following 8 st pattern for the next 9 rows:
Colour Chart In Words:
K1 green, K7 blue
K1 blue, K1 green, K6 blue
K2 blue, K1 green, K5 blue
K1 blue, K4 green, K3 blue
K3 green, K1 red, K4 blue
K2 blue, K3 red, K3 blue
K2 blue, K3 red, K3 blue
K4 blue, K2 red, K2 blue
K5 blue, K2 red, K1 blue
Break off red and green. Continue in blue until the piece measures 6″
Separate 24 sts onto a single needle for heel flap. Knit in heel stitch
(sl 1, K1 on RS, p on WS) for 20 rows. End with a p row.
Turn heel:
K 16, SKP, turn.
Sl 1, P8, P2tog, turn
Sl 1, K8, SKP, turn
Keep doing those last two rows till all sts are worked. (I think you will wind up with 10 sts)
Knit across all those sts, then pick up 14 sts on the side of the heel flap, knit across the instep sts, then pick up another 14 sts on the other side of the heel flap.
Decrease for gusset:
Knit to last 2 sts on needle one, then k2tog. Knit instep sts.  Then on Needle 4, SKP and then knit to end. Knit two rounds. (or one round if you prefer a really fast "neck down" on the foot).
Repeat this group of rounds until you again have 48 sts.
Then knit until sock is about 2″ less than you want it to be. (I knit to 7 3/4 for my sis in law, who has about size 8 1/2 feet)
Then start the decreases for the toe. Either use a star toe, or use this:
(dec round): Knit to last 3 sts on needle 1, k2 tog, k1
Needle 2: k1, SKP, knit to end
Needle 3: k to 3 before end, k2 tog, k1
Needle 4: k1, SKP, k to end
The "Socka way" is to do this round, followed by 3 plain rounds, then two sets of the dec round followed by 2 plain rounds, then 3 sets of the decrease round followed by a single round, and then dec every round till 8 sts remain, where they are then Kitchenered.
If you have a preferred dec method, use it.
---
Copyright Erica Corbett, all rights reserved. Feel free to use this pattern to make socks for yourself or as gifts (I doubt anyone would mass produce these to make big profits, but I'd prefer you didn't). Image Copyright Sarah Bradberry December 1999