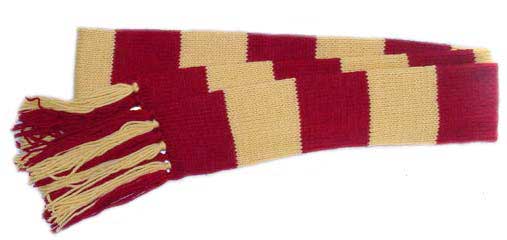 Size
4 inches wide, 5.5 – 6ft long
Materials
160gms each Worsted Weight Patons Classic Wool in the following colours.
Colours described in the Harry Potter books: Rich Red (colour 0207) and Old Gold (0204)
Or
Colours as seen in the Harry Potter movie: Burgundy (0208) and Maize (0203)
1 set 4.5mm dpns, 2 circulars or straight knitting needles (if you choose to knit flat and seam).
Gauge
20sts to 4 inches over st st
Pattern
The pattern is written as if you are knitting in the round, but this scarf can be knit flat and seamed if you desire.
Using the red/burgundy colour, cast on 40sts and knit in the round for 3 inches (work st st if you are knitting your scarf flat)
Tip: If you use a provisional cast on you can graft the end closed for a neater finish.
Change to maize/old gold and work for another three inches.
Tip: When changing colours, tie your yarns in a firm knot.
Because the scarf is a tube you won't need to darn the loose threads in if you don't want to. If you prefer to darn the loose threads in, turn your scarf inside out before you graft the ends together and do it then.
Continue working stripes in this way until work measures 5.5 – 6ft, depending on the height of your little wizard. Make sure you end with a rust/burgundy coloured stripe.
Don't cast off, graft the end closed.
Finishing
At each end, make 5×4 inch long tassels in the following colour sequence
red/burgundy
maize/old gold
red/burgundy
maize/old gold
red/burgundy
---
Pattern copyright 2001 Sarah Bradberry. All rights reserved. Photo of finished scarf is copyright Sarah Bradberry May 26th 2004.