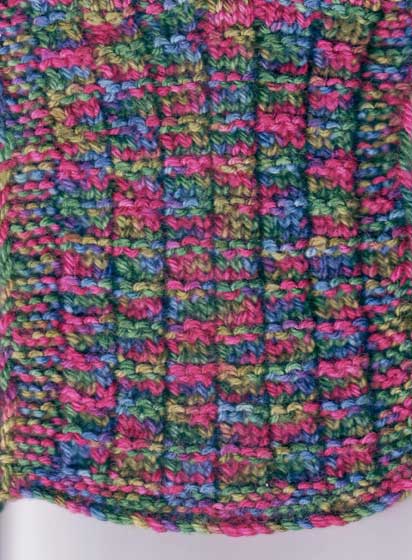 I made this up to use some worsted weight variegated wool of which that I had only 3 balls. I wanted a waffley texture that wouldn't detract from the colours of the yarn, but would add some interest on both sides. You could of course use a different weight yarn or make it wider to suit.
I used wool called "Online Linie 157 Tessa" at 18 stitches per 4″ on 5mm needles.
I always slip the first stitch purlwise and knit in to the back of the last stitch on every row to give a nice finish to the edge.
The pattern is basically a broken rib with garter stitch edges. The back side looks like purl with knit ribs as the horizontal lines don't show much
Cast on 21 stitches.
Knit 4 rows. Begin pattern:
Row 1: k 4, p 1, (k3, p1) three times, k 4
Row 2: k 5, (p 3, k 1) three times, k 4.
Row 3: as row 1
Row 4: knit
Continue until desired length, leaving enough to knit the last 4 rows.
Cast off
---
Copyright Carol Denehy 2002. All rights reserved.