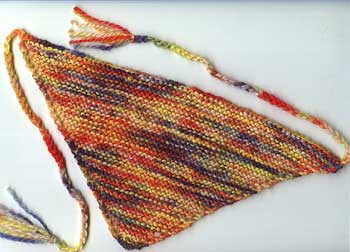 My daughter and I had lots of fun experimenting with rainbow dyeing in the Winter school holidays. She wanted to take some fibre, yarn, and something knitted to school for show and tell, so I knit this kerchief for her. It took a total of about an hour from start to finish 🙂
Materials
Any yarn that with a soft drape. I used 15gms sportweight homespun rainbow dyed merino for the smallest size. It is very important the the knitted fabric drapes well, otherwise the kerchief will stick up and look silly.
Lightweight cotton (30gms or so should make the largest size), acrylic (20gms), or soft novelty yarns (amount depends on weight) should work well
Needles to suit your chosen yarn. I used 4mm.
Crochet hook in the same size
Size
To fit 4-8yrs (9-13yrs, teen-adult)
Abbreviations
K = Knit
YO = Yarn Over
Pattern
Cast on 1 st
(K1, P1, K1) into the stitch (3sts)
Every row: K1, YO, K to the end of the row
Continue until work measures 12 (14, 16)inches across. Cast off.
Crochet a 9 inch chain at both ends of the cast off row.
Using 3 strands of yarn make small tassels at the end of each tie.
Darn in loose ends on the wrong side.
---
This pattern and photo are Copyright © Sarah Bradberry July 10th 2000. All rights reserved.