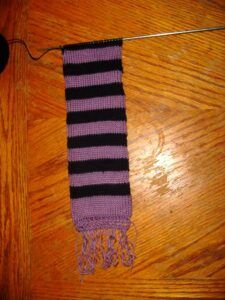 Comforter (scarf) from Cornelia Mee's Exercises in Knitting
Pattern
Abbreviations
K – knit
sl – slip
wyif – with yarn in front
US 3/3.25mm needles
yarn: see note
Double-knitting: *K1, sl1 purlwise wyif, repeat from * to end of row, every row.
Cast on 48 stitches in one color. Work 20 rows double-knitting. Work 12 rows double-knitting in second color. Work 12 rows double-knitting in first color. Work 12 rows double-knitting in second color. Knit scarf to preferred length, in double-knitting, alternating colors every 12 rows. Work final 20 rows in first color and bind off.
Add fringe No. 1.
Note: The original pattern calls for four-thread fleecy. One source I came across likened four-thread fleecy to mohair; another source likened it to 8-threaded German wool, which is close to DK. I used Aunt Lydia's Fashion Crochet Thread #3, because the gauge on the ballband seemed right for the needles, and also for stitch definition. (I thought mohair might be a bit ambitious for my first double-knitting attempt.) I would say use whatever suits your needles – you could even use a lighter or heavier yarn if you adjust your needles accordingly. That would affect the width of your scarf, so you probably would want to knit a swatch first, in case you needed to increase or decrease the number of stitches you cast on. Just make sure you cast on an even number of stitches. The width of my scarf is three inches.