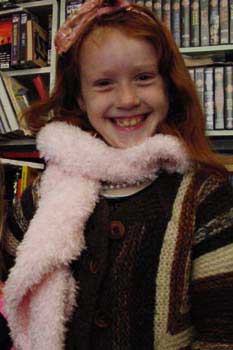 Sample was knit with double strands of Cleckheaton Faux Fur (total 100gms)
Using size 13 US needles (a long circular is more manageable) and a chunky dense "fur" type eyelash yarn such as Jaeger Wolga, cast on enough stitches to make a five foot length (that was around 140 – but there's a lot of room for approximation in this!).
Purl back after the cast on row and then continue in stockinette until the boa is a suitable width, for me, I just used what I had left over of the yarn in purple, 1.5 skeins, which made a thin boa.
Working in stockinette causes some curl, and then make the whole thing "boa-like" by making multiple decreases (k2tog alternating with k3tog) instead of just knitting single stitches as you are casting off. The large multiple decreases make the whole thing frill.
---
This pattern is Copyright © Leigh Witchel 2001. All rights reserved. Used with permission.  Image copyright Sarah Bradberry 2001