Mobile Users: Sorry but this stopped working on mobile. It still works on desktop though. Apologies for the inconvenience while I try and fix it.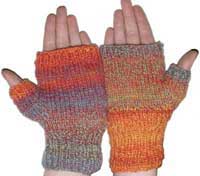 Left: Handspun dk weight wool;
Right: hand dyed vintage chunky weight oddments.
With only 3 measurements and a gauge swatch, you can knit any size mitts with any yarn you desire! Just fill in a few measurements and click the "Make my pattern" button.
Who are the mitts going to fit?
---
Original pattern copyright Sarah Bradberry, 2005. JavaScript version copyright Sarah Bradberry, February 4th 2014. All rights reserved.