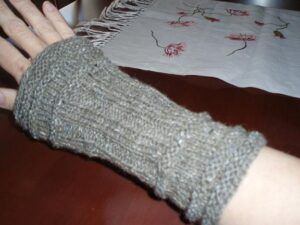 Pattern
Note: The original pattern uses size 1mm or US 00000 needles and laceweight wool and has you cast on 102 sts. The following pattern has been resized to use dk weight wool.
This pattern consists of an upper cuff done in rounds of knit and purl, a center ribbed section, and a lower cuff done in knit and purl rounds. When I first considered this pattern, I did not know how the cuffs could provide much warmth because of the flaring out of the knit/purl sections on either end of the ribbed section. Having decided that the ends of the cuffs were intended to fit close to the hand when worn, I have tried to size them for a snug fit.
NOTE: The number of stitches cast on and worked can be easily changed to accommodate a different size, gauge, or type of yarn. If you change the stitch count, make sure it is a multiple of three and divides to an EVEN number (Ex. 42 stitches divided by 3 equals 14). Your total stitches must divide by three to an even number to have the center rib section work out correctly.
Size
Womens small/medium, womens large/mens small, mens medium/large
Materials
One ball Rowan Felted Tweed (50G, 191 yards). A similar sport/DK weight yarn could be substituted.
Gauge
Worked in the round, 23 stitches and 40 rounds to four inches before blocking. The goal is a warm, closely knit but flexible fabric.
Four US size 4 double pointed needles. Pattern is worked in the round on three needles; knit with the fourth needle.
Instructions
Cast on 42 (54, 66) stitches. Join to work in round and place marker at beginning of round.
Arrange stitches on dpn's, 12 (18, 18) stitches on first needle, 18 (18, 24) on second, and 12 (18, 18) on third needle. Knit with the fourth needle.
Upper Cuff: Knit two rounds, purl two rounds.
Knit four rounds, purl two rounds.
Knit eight rounds, purl two rounds.
Center Rib Pattern: Work rib pattern in three's (knit three, purl three). Work 32 (38, 44) rounds in rib or until length suits you.
Lower Cuff: Purl two rounds, knit eight rounds.
Purl two rounds, knit four rounds.
Purl two rounds, knit two rounds. Cast off.