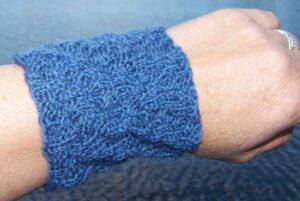 It's a bit difficult to see in this photo but the muffatees have a corkscrew k3 p3 ribbing that swirls around them.
Adapted by Nan Chinander
Background
First, a bit of background—Muffatees were fingerless wrist warmers, designed to keep folks warm in chilly, non-central-heated rooms and also to cover the gap between where a mitten leaves off, and where a coat sleeve begins. Usually they had a thumb hole anchor them to the hand, but sometimes muffatees were simple tubes of knitting, such as these Corkscrew Muffatees are.
I knit these muffatees using some wool sock yarn that I had—I believe it was either Regia or Opal brand yarn. I'm afraid I didn't have the band with that information. I do know that it was 100% wool. Using US size 3 needles, these muffatees were about a ¼ inch too big for my large woman's wrist, though they would be an ideal size for a man (yes, men wore them—and children too.) For a smaller woman's size I recommend using US size 2 needles, and not knitting too tightly.
Materials
4 double pointed US size 3 knitting needles (for a man) or 4 double pointed US size 2 knitting needles (for a woman)
100 grams of 100% wool sock yarn (this will be more than enough for both muffatees.)
Pattern
Cast on (CO) 72 stitches using a long tail or other flexible edge cast on. Divide the stitches between 3 needles (24 stitches per needle.) Join and begin knitting in the first cast on stitch. Make sure the stitches are not twisted.
Rows 1-3: P3,K3 to end of row.
Rows 4-6: K2,*P3, K3 to last stitch*, K1.
Rows 7-9: K1,*P3, K3 to last 2 stitches*,K2.
Rows 10-12:K3,P3 to end of row.
Rows 13-15:P2,*K3,P3 to last stitch*,P1.
Rows 16-18:P1,*K3, P3 to last 2 stitches*,P2.
Begin pattern at Row 1 and continue in corkscrew pattern for two more complete pattern repetitions (making 3 total) or to desired length. Cast off in P3,K3 pattern, using loose tension or a larger needle to guarantee a flexible edge.
Sew in any loose ends. Make another muffatee.