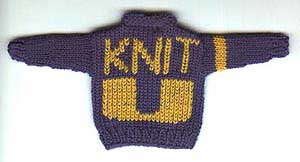 The sweater on the left is my original, while the one on the right was knit by David Xenakis of Knitters Magazine
Finished Size
8.5cm high, 7.5cm across chest
Materials
Scraps of yarn in two colours. I used 3 strands of Toorallie 2/22 Merino but you can substitute any sock weight yarn.
1 set each 2.75mm and 3mm dpns
Safety pin or brooch finding
Gauge
Doesn't really matter but my gauge was 28sts and 46 rows to 10cm over st st worked in the round.
Abbreviations
K2tog = knit 2 together
SSK = slip, slip, knit
M1 = pick up the bar lying before the next st and knit into the back of it.
Pattern
Using 2.75mm needles cast on 50sts and work 5 rounds K1, P1 rib.
Next round: (Work 25sts K1, P1, rib, M1) twice
Change to 3mm needles and work 2 rounds st st.
Next round, K2, place marker in next st, K to end of round.
Work a further 15 rounds st st (18 rounds total)
Next round: K 26 and place remaining 26sts on a holder.
Continue in st st on these 26 sts for a further 13 rows.
Neck and shoulder shaping:
K9, cast off 8, K9, turn
Cast off 5, knit to end
Cast off.
Rejoin yarn to other side of front and cast off 5, knit to end, turn
Cast off.
With RS facing rejoin yarn to sts you placed on hold and work 14 rows st st
Cast off 5 sts at beginning of next 2 rows, turn, cast off.
Join shoulder seams.
Using 3mm needles pick up 24sts around neck and work 3 rounds reverse st st (every row purl). Cast off.
Let roll to inside of neck and tack down neatly.
Sleeves
Left Sleeve
Using 3mm needles pick up 18sts around armhole and work as follows in st st.
Rounds 1-7: Work in st st
Round 8: K2tog, knit to last 2 sts, SSK
Repeat rounds 1-8 twice more.
Change to 2.75mm needles and work 4 rounds K1, P1 rib.
Cast off.
Right Sleeve
Work as for left sleeve but work 1st 4 rounds in main colour, next 4 rounds in contrast colour, then remaining sleeve in main colour.
Making Up
Neatly darn in all ends (I tied knots since no-one was going to wear it) and duplicate st the KnitU logo on the front, lining up the bottom right hand square of the chart with the st you put your marker on.
Iron following the instructions on your yarn label.
Put safety pin through back, or sew on brooch finding and wear to Stitches!
Other Options
Work shoulder shaping using short rows and graft the shoulders together
Put neck sts on hold instead of casting off.
---
This pattern and the first image on this page are Copyright © Sarah Bradberry February 20th 1999. All rights reserved. Second photo is copyright David Xenakis. KnitU and the KnitU logo are Copyright © XRX inc. Used with permission.