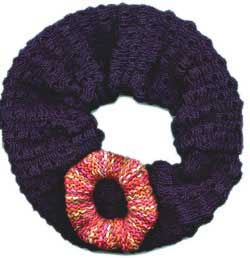 This image shows the puffy scrunchie pattern knit in navy blue on the Passap E6000 in 2/22 acrylic, and the sports scrunchie hand knit with DK weight variegated wool.
Puffy Scrunchies For Evening Wear
Tension doesn't matter as a cm or so on a scrunchie doesn't really make any difference. Before you sew up, the fabric should be approx 56cm X 16cm.
Needles are in metric sizes and yarn descriptions are Australian.
12 ply: Using 7mm needles, cast on 70 sts and work 30 rows in desired pattern. Cast off
8 ply: Using 4mm needles, cast on 125sts and work 50rows in desired pattern. Cast off
4 ply: Using 3.25mm needles, cast on 172sts and work 64rows in desired pattern. Cast off
Making Up. Using an invisible seam, sew long sides together to form a tube.
Sew short sides to opposite ends to form a fabric ring, leaving an opening for the elastic.
Take 20cm of strong elastic and thread through, gathering the fabric as you go.
Overlap ends of elastic and sew firmly.
Sew the opening in the knitting closed.
Sports Scrunchies
A less dramatic scrunchie suitable for everyday wear can be made with a commercially produced hair elastic and a small piece of knitting.
Simply take your favourite size hair elastic and knit a rectangle 4cm wide and the length of your elastic when stretched to it's maximum length.
Sew the long ends together, making sure that you encase the elastic in the tube while sewing. Sew the short ends together and you're finished!
These can be decorated in 1000's of ways, eg: Knit beads into the fabric, stripes, intarsia, sequins, sew on flowers, plastic jewels, puffy fabric paint, embroidery, fair-isle, etc. You could even make 2 tiny balls of wool and a pair of mini knitting needles out of toothpicks and sew them on! Or a tiny sweater! Or a mini pom pom teddy bear…
---
This pattern is Copyright © Sarah Bradberry December 1995 All rights reserved.