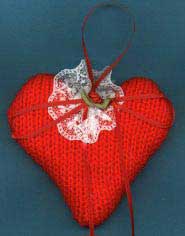 Adapted with permission from a Machine Knitting Pattern designed by Ginny Davis
Materials
Any cotton or acrylic yarn with the appropriate size needles to work with the yarn;
Cable stitch holder,
Small stitch holder;
Row counter;
Fiberfil,
Potpourri beads,
Small amount of lace 1″ to 1 1/2″ wide,
Small ribbon rose,
26″ satin ribbon
Yarn I've used
Tahki Cotton Classic or Brownsheep Cotton fleece; size 6 US needles
Southmaid Cotton 8; size 4 US needles
Sirdar Snuggly Aran; size 7 US needles
Size 3 crochet cotton; size 3 US needles
Pattern
Entire heart is worked in stockinette. The points of the heart are worked in short rows, working half the stitches at a time.
Cast on 2 sts
Row 1: K
Row 2: P
Row 3: K, Inc. 1 st at each end
Row 4: P
Repeat Rows 3 and 4 until you have 24 sts.
Work 3 rows even
Row 27: K 11, place next st on cable holder at back of the work, K the next st. Place the remaining 12 stitch including the st on the cable hook, onto a stitch holder. [working the center two stitches in this manner twists the stitches to avoid a hole at the center of the heart] Begin short row shaping. ** To avoid holes as when shaping heels on a sock, you will want to wrap your stitches as you sl the additional stitch.
Row 28: Sl 1, P 11
Row 29: Sl 1, K 10, sl 1
Row 30: Sl 2, P 9, sl 1
Row 31: Sl 2, K 8, sl 2
Row 32: Sl 3, P 7, sl 2
Row 33: Sl 3, K 6, sl 3
Row 34: Sl 4, P 5, sl 3
Row 35: Sl 4, K 4, sl 4
Row 36: Sl 5, P 3, sl 4
Row 37: Sl 3, K 4, sl 5
Row 38: Sl 4, P 5, sl 3
Row 39: Sl 2, K 6, sl 4
Row 40: Sl 3, P 7, sl 2
Row 41: Sl 1, K 8, sl 3
Row 42: Sl 2, P 9, sl 1
Row 43: K 11, sl 1
Row 44: P 12
Row 45: K 24 including stitches on holder. Place the 12 stitches worked in Rows 28 through 44 onto a holder and begin shaping the opposite side of the heart by repeating Rows 28 through 45.
Work 3 rows even.
Begin decreasing 1 st at each end every other row until you have 2 sts left
Work 2 rows even, Bind off.
Fold the heart in half.
Working in blind mattress stitch, seam the edges leaving a small hold at one side to stuff with fiberfill.
While stuffing, place a small amount of potpourri beads into the center of the heart.
When heart if stuffed to your satisfaction, stitch remaining seam shut.
Embellish the heart as follows.
Cut a piece of 1″ to 1 1/2″ wide lace to about 12″ long.
Thread a running stitch along the edge, gather into a circle and tack the end closed.
You don't need to seam the edge of the lace, just let it overlap.
Place lace at the center of the two heart peaks and tack in place.
Cut a piece of ribbon about 25 to 26″ long.
Thread into a tapestry needle. Working in the center of the lace circle, thread the ribbon under the center knit stitch, pull ribbon up leaving a tail of 19″.
Thread the ribbon through again in the same direction to form a about 6″ loop for hanging the heart. Tie the ends into a bow. Glue a ribbon rose onto the center.
For a smaller heart using DK or light worsted yarns with size 5 to 6US needles, or for a tiny Christmas ornament using size 3 or sport weight cotton with size 2 or 3 US needles, work until you have 18 or 20 stitches and working the short rows on 9 or 10 stitches.
---
This pattern is Copyright © 1999 Janet Rehfeldt. All Rights
Reserved.
Used with permission.