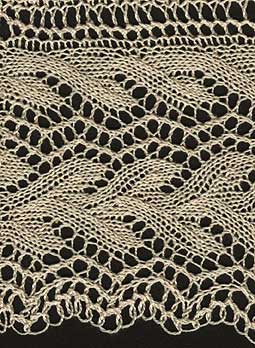 Note: the loops at the bottom of the sample lace are too large. The pattern below is correct.
Pattern
Charted
See the abbreviations page for explanations of symbols used in this chart
Cast on 34 sts and knit 1 row
Commence from row 1 of chart
Rows 1-12 form pattern. Repeat for desired length
In Words
Note: All double yarn overs are treated as a single stitch on following rows. When working into a double yarn over made on the previous row, drop the 2nd loop off the needle.
Cast on 34sts and knit one row
1st row: K2, yo, p2tog, k3, k2tog, k2, yo, k1, (yo, k2tog) twice, yo, k2, k2tog, k4, k2tog, k2, yo, k1, yo, k2tog, yo, k1, yo, p2tog
2nd and every alternate row: yo, p2tog, p to last 4sts, yo, p2tog, p2
3rd row: K2, yo, p2tog, K2, k2tog, k2, yo, k3, (yo, k2tog) twice, yo, (k2, k2tog) twice, k2, yo, k3, yo, k2tog, yo, k1, yo, p2tog
5th row: K2, yo, p2tog, K1, k2tog, k2, yo, k5, (yo, k2tog) twice, yo, k2, (k2tog) twice, k2, yo, k5, yo, k2tog, yo, k1, yo, p2tog
7th row: K2, yo, p2tog, K6, k2tog, k2, (yo, k2tog) twice, yo, k1, yo, k2, k2tog, k4, k2tog, k2, (yo, k2tog) twice, yo, p2tog
9th row: K2, yo, p2tog, K5, k2tog, k2, (yo, k2tog) twice, yo, k3, yo, (k2, k2tog) twice, k2, (yo, k2tog) twice, yo, p2tog
11th row: K2, yo, p2tog, K4, k2tog, k2, (yo, k2tog) twice, yo, k5, yo, k2, (k2tog) twice, k2, (yo, k2tog) twice, yo, p2tog
Rows 1-12 form pattern. Repeat for desired length
---
Copyright © Sarah Bradberry 2004