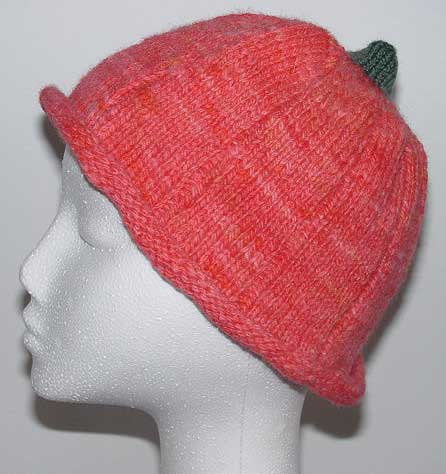 Sample was knit with worsted weight handspun wool.
Materials
Yarn: pingouin super cable 100% cotton, orange and green (or brown), or any worsted weight yarn to suit
US size 6 circular needle, dp needles
Size
To fit 22″-24″ head circumference.
Note: If you want a size 22″ hat with a snug fit, you can either use a yarn that knits to a gauge of 22sts per 4 inches or cast on 100 stitches instead of 110.
Gauge
On size six needles, 5 st/inch
Pattern
Cast on 110 st. on circular needle and join.
Knit 1 inch st st.
*Knit 9, purl 1*, repeat between *s all the way around.
Continue the knit/purl pattern in the round until the hat reaches the crown of your head. About 6-8 inches. 6 inches will probably sit just above the ears and 8 will cover them slightly. To be absolutely sure, try it on when you think it's long enough. It will curl up at the bottom.
Decrease for crown:
*K2tog, knit 8*, repeat all the way around one row.
*K2tog, knit 7*, repeat around.
Continue to decrease the same way, fewer knits each row, until you have 22 sts. Switch to green (or brown). Knit around as many rows as you like until the stem is long enough for you. k2tog all the way around. Run the yarn through remaining stitches and finish.
---
This pattern is © Maggie Burns 2000, all rights reserved. Used with permission. Photo copyright Sarah Bradberry 2003.