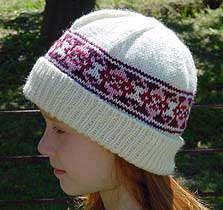 This cute little hat is knit in the round for a quick result (no seams)!
Size
Because the ribbed band is very elastic, this hat will fit from age 8 to a medium size adult.
Materials
I used Cleckheaton Country but you can substitute any 100% wool that knits to gauge.
Cleckheaton Country 8 ply (double knit weight) 50gm balls, 97 metres per ball, 14 wraps per inch
Natural White (colour 0050) – 2 balls
Aubergine (colour 2160), Brick Red (colour 2178) and Pink (colour 1840), approximately 5 grams each.
1 set of 3.25mm and 4mm double pointed needles
Gauge
22sts and 30 rows to 10cm over plain stocking stitch using 4mm needles
Pattern
Using white and 3.25mm needles, cast on 120 sts and join. Mark the beginning of the round (I like to use a small piece of contrast coloured wool as a marker).
Knitting in rounds, work 10cm knit 1, purl 1 rib.
Change to 4mm needles and knit 2 rounds in white.
Beginning at the bottom right hand square of the chart, knit the fairisle band over the next 15 rounds. (Each square represents one stitch in the corresponding colour).
Change back to white and knit every round until your work measures 17.5cm from the cast on edge.
Begin decreasing for the crown as follows:
1st round: *K18, K2tog; repeat from * to end of round (114sts)
Knit one round
3rd round: *K17, K2tog; repeat from * to end of round (108sts)
Knit one round
Continue decreasing in this manner until you have 96 stitches, then decrease every round until 6sts remain.
Cut your yarn and thread it through the remaining stitches. Pull tight and darn in the end on the wrong side of your work.
Darn in all loose ends neatly on the wrong side of your work and press according to the care instructions on your yarn band.
Tip: This hat can also be knit in plain stripes, or in a single colour. Make one to match all your favourite winter outfits!
---
Copyright 2001 Sarah Bradberry, all rights reserved