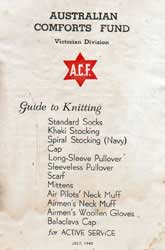 from Guide to Knitting for Active Service by the Australian Comforts Fund
Note: This pattern has been rewritten into modern knitting language with additional information.
Materials and Tension
Use a good sports wool, 3 to 4 ozs – note: the needles that follow are the recommended size for dk weight (Australian 8 ply) wool. Using that information and the row gauge that follows later in the pattern I estimate a gauge of around 20sts to 4″ is correct.
Straight and dpn needles in size UK No. 8/4mm/US 6
Pattern
Neck
Cast on very loosely 88 stitches same as for a sock.
Knit 4 rows plain, then work k2, p2 rib for 6 inches.
Chin Opening
Thread 18 stitches on a stitch holder, and leave them.
Back of Head
Now use longer needles and work 6″ (approx 58 rows) garter stitch on the 70 remaining stitches.
Top of Head
Beginning with a rs row, knit 46, slip 1, k1, psso. Turn and knit back 23, slip 1, k1, psso, and turn.
This is repeated, taking in at end of each row till all the side stitches are knitted up, and you have only 24 stitches.
The wool is to be broken, leaving a enough to darn in later.
Face Band
Using your double pointed needles and begin again on the 18 stitches left for the chin.
Work k2, p2 rib across the 18 chin stitches, pick up 29 stitches up the side of the face, 24 across the top, 29 down the other side, making a total of 100 stitches.
Work k2, p2 rib for 11 rows or 1½ inches. Cast off loosely.
---
The original printing of this pattern is in the public domain, however this modernised and clarified version is copyright Sarah Bradberry, May 29th 2012. All rights reserved.