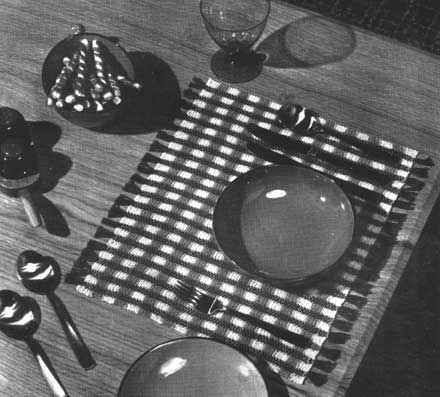 Note: This pattern uses old UK needle sizes
Materials
Coats Mercer-Crochet #10 (20 gm) 1 ball each of White and 623 (Spring Green).
5 skeins Clark's Anchor Soft Embroidery 499 (Grass Green) or any other contrasting colour.
1 pair Needles No. 12. (2.75mm)
Milwards 'Gold Seal' Tapestry Needle No. 19.
Tension
8 sts = 1 inch
Measurements
12″ X 14 3/4″ (not including fringe).
Pattern
With White, cast on 99 sts.
1st to 8th Row: K. Drop White and join on Spring Green.
9th to 16th Row: K. Drop Spring Green and pick up White.
Repeat 1st to 16th row 8 times more then 1st to 8th row once more. Break off thread leaving about 1 yd for casting off.
* Cast off 3 sts, pull length of thread through st on right hand needle, drop next st, leave an inch of thread; repeat from * to end of row, ending with cast off last 4 sts. Fasten off.
With 2 threads of Soft Embroidery work 3 rows of darning over threads where stitches were dropped, leaving 1″ free at ends to form fringe.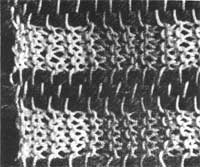 Damp and press.
---
Updated digital version of this pattern is Copyright Sarah Bradberry 2006. All rights reserved.