Another Leaf Pattern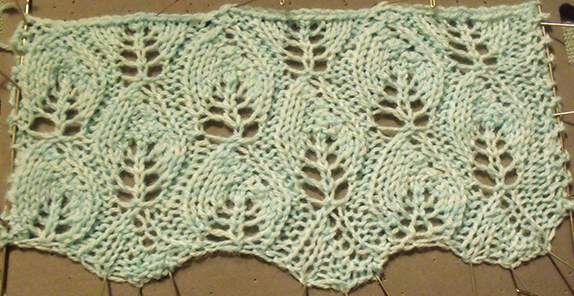 This photo shows a swatch of the pattern knit by Janie Bradberry.
Swatch for Chair Cover 12: Another Leaf Pattern from Exercises in Knitting by Cornelia Mee. Note: The swatch in the photo is made up with 4 extra stitches on each side; the pattern is repeated twice horizontally and vertically (28 sts, 32 rows). (Note from Sarah: I'm pretty sure this is the back of the knitting and the other side os the right side)
Pattern
The original pattern is for a chair cover, but this pretty lacy leaf pattern could be made into a shawl or other garment.
Abbreviations:
k2tog: knit two stitches together
yo: yarn over
Each pattern is made up of 14 sts and 16 rows; repeat as required.
Row 1: p2, k1, k2tog, p4, k2, p2, yo, k1, trn
Row 2: p3, k2, p2, k3, k2tog, p1, k2
Row 3: p2, k1, k2tog, p2, k2, p2, k1, yo, k1, yo, k1
Row 4: p5, k2, p2, k1, k2tog, p1, k2
Row 5: p2, k1, k2tog, k2, p2, k2, yo, k1,yo, k2
Row 6: p7, k2, p1, k2tog, p1, k2
Row 7: p2, k1, k2tog, p2, k3, yo, k1, yo, k3
Row 8: p9, k2, k2tog, k2
Row 9: p2, yo, k1, yo, p2, k1, k2tog, p1, k5
Row 10: p4, k1, k2tog, p1, k2, p3, k2
Row 11: p2, k1, yo, k1, yo, k1, p2, k1, k2tog, p1, knit 3
Row 12: p2, k1, k2tog, p1, k2, p5, k2
Row 13: p2, k2, yo, k1, yo, k2, p2, k1, k2tog, k2
Row 14: p1, k2tog, p1, k2, p7, k2
Row 15: p2, k3, yo, k1, yo, k3, p2, k1, k2tog
Row 16: k2tog, k2, p9, k2
---
Photo copyright © Janie Bradberry