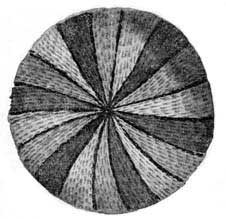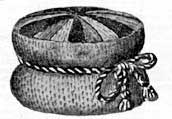 This fascinating cushion cover is quickly knitted, and lends itself nicely to individual taste in colour. The original was for a brown room and was carried out in Lemon, Mid. Brown, Orange, and Dark Brown.
Should other colours be chosen, be sure to use a very dark shade, or black for outlining the sections.
The following directions are for a cover 22 inches in diameter. Should a larger or smaller cover be required, cast on (or take off) any number of stitches divisible by 3. These directions are suitable for top of pouffe also.
We give quantity of wool for front of cover only, should a corresponding back be required double these quantities (with exception of darkest shade).
Materials
1 Skein each of Lemon, Orange, Mid. Brown and Dark Brown.
1 pair old UK size No. 7 (4.5 mm) Knitting Needles.
Five-eighths of a yard of Satin or Sateen for Back.
Gauge
Note from Sarah: No gauge was given for this patern, but UK size 7 needles are usually used to give a gauge of  20 – 22sts to 4 inches with dk weight yarn.
Pattern
Using dark brown wool cast on 54 stitches.
1st Row: Purl (break off brown and join in the lemon.)
*2nd Row: Purl to 3rd last stitch and turn, keeping 3 unknitted stitches on left needle.
3rd Row: Purl to end.
4th Row: Purl to 6th last stitch and turn, keeping 6 unknitted stitches on left needle.
5th Row: Purl.
6th Row: Purl to 9th last stitch and turn, keeping 9 unknitted stitches on left-hand needle.
7th Row: Purl
Continue decreasing each row by 3 stitches in this manner until 3 stitches are purled.
Break off lemon and join in dark brown again.
32nd Row: Slip 1st stitch and purl back **.
This completes one section.
Join in Mid. Brown and repeat from * to **.
Join in Orange and repeat from * to **.
Repeat these 3 sections 5 times more (eighteen sections).
Draw centre neatly together; or, it may be filled in with "cobweb" of orange wool. Press centre well.
If desired, the cushion may have a straight band of garter-stitch connecting the front and back. For this band cast on 14 stitches and proceed until length of circumference. Slip stitch together.
If a material back is required, cut it by size of knitted piece. Place it on, right sides together, stitch round allowing an opening large enough to slip cushion in. Prepare well-filled cushion.
---
This pattern is in the public domain. Digital version copyright © Sarah Bradberry 2002.  Kindly transcribed for Knitting-and.com by Alison Trembley-Boucher