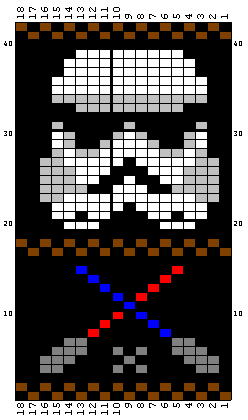 I designed these fairisles for a pullover I was going to knit my husband in 1996, but the design was never finished. They're suitable for either borders, or an allover design if you don't mind the sections with three colours per row. You can embroider the red and blue parts of the light sabers rather than knitting them if you prefer.

This second chart (added in March 1999 with the text charts below) shows a tie fighter, all terrain scout vehicle, and all terrain attack vehicle. They're designed to be used with the light saber design above. I suggest working multiples of a single character per round, but more experienced knitters might like to try mixing and matching.
Finally, here are some text charts. If "May the Force Be With You" doesn't fit across your sweater break it into two separate lines. I think these two would work very well knit sideways in a scarf. Using DK or worsted weight wool, cast on about 300 sts. Knit 4 sts, then begin chart. Use a provisional cast on and knit the same amount of plain rows after working the charts, then graft into a tube, add fringe! You could do the background black with dots of white for stars.


---
Charts 1 and 2 Copyright © March 1996 Sarah Bradberry, charts 3, 4, and 5 Copyright © Sarah Bradberry March 1999