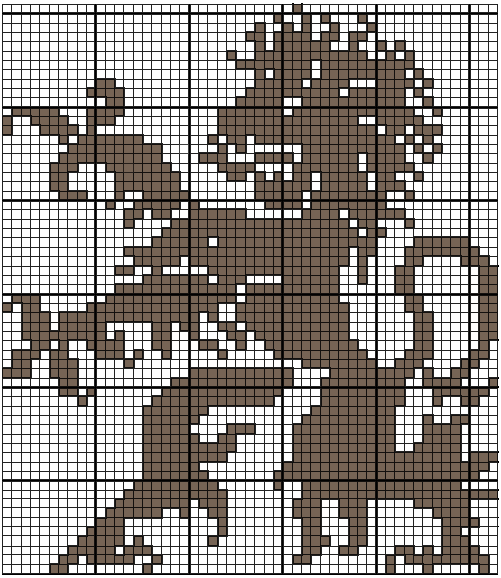 Reprinted here by permission of the author
This lion is 53 units wide and 61 units tall. For best results, please take time to confirm all stitch and row counts.
Adapted from Siebmacher, Johann. Schon Neues Modelbuch. Balthazer Caimox, 1597. As reprinted in The New Carolingian Modelbook: Counted Embroidery Patterns from Before 1600 by Ianthe d'Averoigne (Kim Brody
Salazar). Outlaw Press, 1995. Reproduced here with permission of the author
---
This pattern ©1995, 1999 by Kim Brody Salazar. [email protected]
Permission is granted to share it in on-line pattern collections or in newsletters
provided this notice remains attached (the courtesy of notifying
the author that you have done so would be greatly appreciated). Permission
is granted to use this chart in creating items for personal use, or for
single-item charitable donation or charitable sale. People wishing to include
this pattern in any form of written collection, or wanting to use it to
make multiple items for commercial sale are directed to obtain the author's
permission.