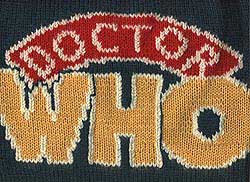 On this page you will find links to designs for all the Doctor Who logos from Tom Baker to Sylvester McCoy.
All charts are designed to fit on an average sized man's sweater, or loose fitting women's sweater (knit in 8 ply, or DK yarn on 4mm needles), while design number three is designed to fit on a child's sweater.
Click on the thumbnails to view the graph for each design.
Print this page to use as your colour reference as I have changed the black backgrounds to grey in the charts to make the grid easier to see. The charts for most of these designs are very large and may need to be printed over several pages so you'll need to save them to disk and print them using a graphics program.
1.

The image on the left shows the logo knit with 8 ply (dk) wool on
4mm needles. When you have finished knitting, outline the word "WHO" and the banner containing the word "Doctor" using black yarn and a neat stem stitch.

2.

This chart was designed for use on the back of a waistcoat, with
the front worked either plain, or in stripes.

When you have finished the knitting outline following the instructions for design number 1.

3.

This chart was designed to fit on child's jumper. I put it on a size 1 jumper for my daughter shown below (I thought it was lost but was very glad to find it packed away in a bag of outgrown baby clothes!)

4.

5.

6.

Embroider the word Doctor using orange and a neat stem stitch.
---
Copyright © 1993 Sarah Bradberry