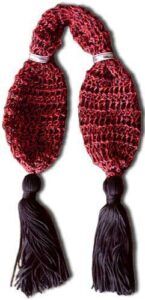 Pattern (updated from the original)
Materials:
2 rings. The sample is made with two of item number LC87 – Decorative Miser Bag Ring from Lacis
Size 10 perle (or pearl) cotton thread in black and red
2 tassels, either purchased or hand made
1 pair of 3.25mm needles
Cast on 72 stitches
1st row: *k2tog, yo, k1; repeat from * to end of row
2nd row: Knit
Continue until work measures 4″ – 6″, making sure it will fit through the rings you have purchased.
Making Up
Wet block your piece of lace into a rectangle shape.
Fold in half lengthways and stitch the longest sides together, leaving a slit of about 3″ in the centre.
Gather one of the short ends and stitch on a tassel.
Thread the rings onto the other end of the purse, then gather and stitch on the second tassel.