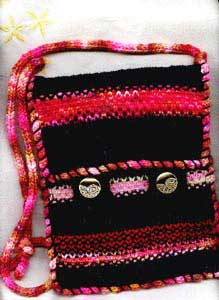 Materials
Approximately 100gm of 8 ply/worsted oddments in your choice of fibre
1 pr 4mm needles
2 buttons
Tension
22sts and 30 rows to 10cm (4 inches) over st st on 4mm needles
Method
Measurements:
Finished bag measures approximately 17cm (6 4/5 inches) wide by 33cm (13 1/5 inches) high (not including strap).
Linen St:
Cast on an odd number of sts and work as follows:
1st row: K1, (bring yarn to the front, slip 1 purlways, take yarn to the back, K1) rep to end
2nd and every wrong side row: Purl
3rd row: K2, (bring yarn to the front, slip 1 purlways, take yarn to the back, K1) rep to last st, K1
These 4 rows form pattern
Front:
Using 4mm needles cast on 41sts and work for 20.5cm (8 1/5 inches) ending with a right side row
Hem
(wrong side) Knit
1st row: K2tog, work linen st to last 2 sts, k2tog
2nd row: Purl
Repeat last 2 rows once more
Work another 6 rows linen st without decreasing.
Cast off
Back:
Cast on 41 sts, work 31.5cm (12 3/5 inches) linen st.
Cast off.
Making Up
Line up the cast on edges of the front and back and sew the sides and bottom together using a neat running st.
Edging:
Cast on 4sts and work I-Cord until it is long enough to go around the flap of the bag, thread yarn through sts and pull slightly (you may need to undo some rows after sewing the i-cord to the bag)
Make another length of I-cord long enough to go around the bottom and up both sides of the bag, plus 51cm (20 inches) long for strap.
Sew the I-cord around the flap of the bag using a couching st (see image above), making sure that it does not bunch up and cause the edges to ruffle.
If your cord is too long simply undo the extra rows and fasten off yarn securely as before.
Measure the longer piece of cord and mark the centre with a piece of contrasting yarn. Matching this thread to the centre bottom of the bag, sew the cord to the sides and bottom in the same manner as you did for the flap.
Tie a knot in the I-cord just above the flap on either side for a neat finish, tie the ends of the cord together to form the strap.
Button Bands:
Cast on 9 sts and knit 16 rows.
K3, cast off 3, k3
Knit 9 rows, cast off.
Sew button bands in place on the wrong side of the flap, just above the I-cord edging.
Sew on buttons.
---
Pattern and images Copyright © Sarah Bradberry February 1st 1998. All rights reserved.