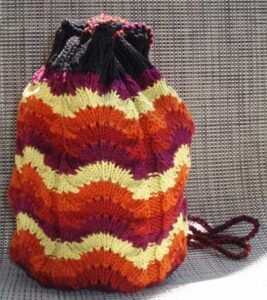 Materials
Four US size 3 double pointed needles. Pattern is worked in the round so you may substitute a 12 or 16 inch circular if desired but you will need dpn's to finish the bottom of the bag.
About 300 yards sport-weight cotton yarn. The model bag was done in five colors of Rowan Cotton Glace – yellow, burgundy, light orange, dark orange, and black. A total of six pattern repeats were used. The model bag measures 10 inches long and 8 inches across.
Note: Any number of colors or weight of yarn can be used – adjust your needle size to the yarn you select. To obtain a firm knitted bag, use a needle 2-3 sizes smaller than you would normally used with the yarn selected.
Gauge
Gauge is unimportant – experiment until you find a yarn and needle combination which gives you a firm fabric you are pleased with. You may also choose to work more or fewer pattern repeats than the six in the model. For each repeat, cast on 19 stitches.
Notes
The shell pattern repeats over 19 stitches. On the first round, you will add 8 stitches to each 19 stitch pattern repeat, and in the next four rounds you will decrease 2 stitches in each pattern repeat until you have returned to the original 19 stitches – your stitch count will therefore vary between rounds.
Pattern
Cast on 114 stitches. Place marker after every 19 stitches. If working on dpn's, arrange 38 stitches on each of three needles, knit with a fourth needle.
First round:—Knit 4 stitches, (yarn over, knit 1) 8 times. Knit 4, purl 3. Repeat this 5 more times for each group of 19 stitches. End of round – total 162 stitches.
Second round:—Knit 2, k2tog, k15, sl1, k1, psso. Knit 3, purl 3. Repeat to end of round – 150 stitches.
Third round:—Knit 2, k2tog, k14, sl1, k1, psso, knit 2, purl 3. Repeat to end of round – 138 stitches.
Fourth round:—Knit 1, k2tog, k14, sl1, k1, psso, knit 1, seam 3. Repeat to end of round – 126 stitches.
Fifth round:—K2tog, k14, k1, sl1, k1, psso, purl 3. Repeat to end of round – 114 stitches.
The stitches are now reduced to their original number. Change colors and repeat the five row pattern until the bag is the height desired.
To finish top of bag – Work 10 ten rows in 2X2 (K2P2) rib, EXCEPT continue to work the 3 purl stitches which separate each pattern section.
Buttonholes
Row 11 – Continue in rib, but bind off the 3 purl stitches which separate each section.
Row 12 – Work in rib until you reach the bound off purl stitches – cast-on 3 stitches using backwards loop method – work to end of round. This will make six buttonholes for the drawstring handles. Continue 2-3 more rounds in rib, purling the 3 cast on stitches as before. Bind off all stitches.
Make I-cord or braided handles of length desired and thread through buttonholes to draw bag closed.
Bottom of Bag
Pick up 102 stitches on bottom of bag, or 17 stitches for each pattern repeat. Knit one round.
Round Two: Knit 4, K2 Tog (85 stitches).
Round Three and Four: Knit
Round Five: Knit 3, K2 Tog (68 stitches)
Round Six and Seven: Knit
Round Eight: Knit 2, K2 Tog (51 stitches)
Round Nine and Ten: Knit
Round Eleven: Knit 1, K2 Tog (34 stitches)
Round 12 and 13: Knit
Round 14: K2 Tog (17 stitches)
Round 15 and 16: Knit
Round 17: K2 Tog (8 stitches), knit 1. Break yarn and thread through stitches – draw closed and secure thread.
Pattern revised by Jean Andrews May 30, 2008