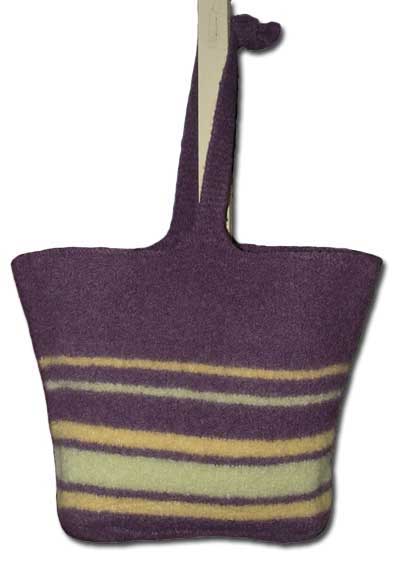 Size
30cm wide at base, 40cm wide at opening and 10cm deep
Strap measure 55cm when knotted.
Materials
Yarn:
7 balls colour 96 (purple)
1 ball each in colour 123 (light apple green) and
87 (yellow)
Needles:
5mm circular needle, 60-80cm long
Tension
19.5sts to 10cm over st st on 5mm needles
Abbreviations
m1 = make one stitch by putting your needle under the bar that lies between stitches, twist it (to avoid making a hole), and knit it.
K2tog = knit 2 together
Pattern
Base:
Using a provisional cast on and 5mm needles, cast on 66sts and knit 44 rows
Body:
K66, pick up 22sts along the side of the garter st rectangle, undo the provisional cast on and knit 66sts (you'll need to pick up 1 st at the beginning to make up 66sts), pick up 22sts along the other side of the rectangle. Place a marker to mark the beginning of the round.
The remainder of the instructions for the body of the bag are to be worked in stripes in the following sequence:
8 rounds purple
8 rounds yellow
4 rounds purple
16 rounds green
4 rounds purple
8 rounds yellow
16 rounds purple
4 rounds green
8 rounds purple
4 rounds yellow
Knit 11 rounds
Next round: M1, k66, m1, place marker, k22, place marker, m1, k66, m1, place marker, k22
Knit 11 rounds
Next round: M1, k68, m1, k22, m1, k68, m1, k22
Knit 11 rounds
Next round: M1, k70, m1, k22, m1, k70, m1, k22
Knit 11 rounds
Next round: M1, k72, m1, k22, m1, k72, m1, k22
Knit 11 rounds
Continue increasing in this manner until you reach M1, k86, m1, k22, m1, k86, m1, k22
Knit 1 round
Handle:
Cast off 34sts, k20, cast off 90, k20, cast off 56. Cut yarn and fasten off.
Put one set of 20sts onto a holder.
Rejoin yarn to the remaining set of 20sts and work handle as follows:
K1, k2tog, k to last 3sts, k2tog, k1
Next row: Knit
Repeat last 2 rows until 10sts remain.
Knit 240 rows, ending with a ws row.
Next row: K1, m1, k to last st, m1, k1
Next row: Knit
Repeat the last 2 rows until you have 20sts. Making sure you don;t twist the handle, graft these 20sts to the 20 sts that you placed on a holder earlier.
Finishing and Felting

Darn in your loose ends on the wrong side by loosely threading them under the back of every second st or 5 or 6 stitches.
There are three things that you need for successful felting of knitted items. Heat, agitation and an alkaline environment. That might sound very complicated, but it isn't really! What it means is this: hot water, a washing machine with a low water setting or an old pair of jeans (or other non-fluffy item that won't bleed dye in the wash), and laundry soap or detergent (the kind without fancy softeners). If you've used a single ply or fluffy yarn you'll also need an old pillowcase or lingerie bag to stop loose fuzz getting into the workings of your washing machine.
Take your bag and put it inside the pillow case or lingerie bag (if needed).
Fill your washing machine with just enough hot water to cover your bag. If you can't change the level of water in your washing machine, add an old pair of jeans for extra agitation.
Put your bag in and let it soak for 10 – 30 minutes. This will give time for all the fibres to soak up plenty of water. Now start the machine. Stop the machine and check your bag after 10 minutes. If it hasn't shrunk enough, keep checking every 5 – 10 minutes until it's the desired size (you can take it out and measure it or just keep shrinking until you like the look of the fabric if you don't mind what size bag you end up with).
Rinse out the soap in water the same temperature as your wash water, or if it's still a little bit too big, rinse it under cold water. The shock of the change in temperature will shrink it a bit more.
Empty your washing machine, spin the excess water out of your bag (don't leave it spinning for too long or you'll make creases that you won't be able to get out).
Fold the handle in half, measure 27cm and tie a knot, being careful not to stretch the main section of the handle. Lay flat to dry.
---
Copyright Sarah Bradberry. All rights reserved.