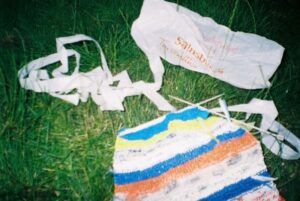 A plastic bag bag in progress
A plastic bag bag is a very strong shopping bag knitted from strips of LDPE plastic carrier bags.
Plastic bags have incredible tensile strength – when knitted the plastic twists, making it stronger. The nature of knitting means that the bag holds together very well with heavy items in it, and is quite stretchy as well.
You will need
A lot of clean non-degradable plastic bags
Knitting needles
Crochet hook
Scissors
Instructions
Take approximately 40 carrier bags in colours that you like, be careful not to use degradable bags that will disintegrate after a few months. Cut off the bottom and the handles, and then cut the plastic bag into one long spiral strip (almost like a spring shape) about 3 centimetres (1 inch) wide all the way along.
Measuring gauge is advisable at this point – 4mm needles were used in the illustration and this made quite loose stitches in plain knit stitch.
Knit a panel twice as long as the bag will be, and bear in mind that the bag will probably stretch a bit as well. Fold this panel in half and sew up the two sides with more strips of plastic bag. A crochet hook seems to work best for this, as large sewing needles make holes in the knitted strips.
Knit two long narrow strips for each side of the bag, again twice as long as they will be once they're on the bag, and sew 5cm (2in) of each end to the inside of the bag.
Designed and written by Lotte Lodge