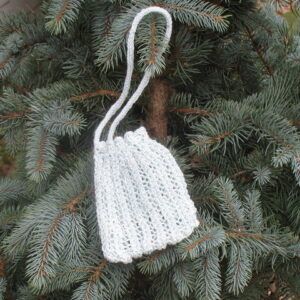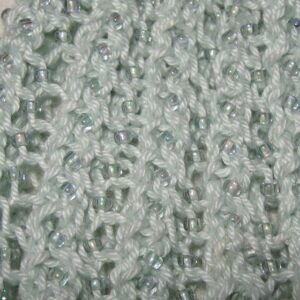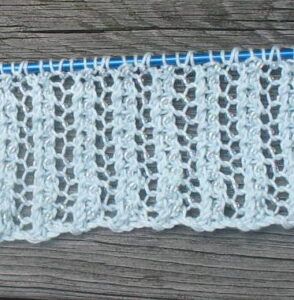 For this sample, I used 60 stitches on US #4 knitting needles, fingering weight cotton yarn and seed beads. I used 2 beads for each even-row yarn-over. At the top of the purse, I made eyelets by knitting 1 row, knitting an eyelet row (K2tog, YO across the row, keeping the first and last stitch in stockinette), then knitting another row before binding off. I then threaded an I-cord through the eyelets.
Pattern
 Abbreviations
K1 – knit 1 stitch
P1 – purl 1 stitch
K2tog – knit 2 stitches together
YO – yarn over
Pre-string the beads onto the yarn.
Cast on a multiple of 4 stitches plus 2.
Odd rows: K1 (*K1, K2tog, YO, P1), repeat from * to last stitch, K1
Even rows: K1 (*K1, K2tog, move 3 beads up to the end of the working yarn, YO and slide beads over, P1), repeat from * to last stitch, K1.
The even and odd rows are the same knitting pattern, but the beads are incorporated into the yarn-over (YO) only on the even rows.
Experiment with the size and number of beads to get the look you want.