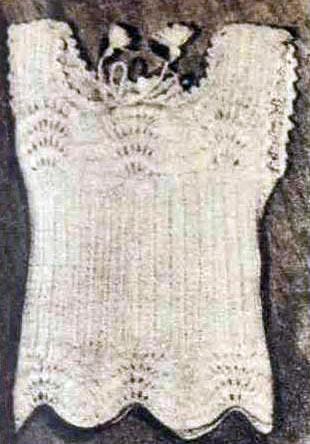 This pattern for a feather and fan baby singlet was originally published in the Australian Women's Weekly, on April 1st, 1944
Materials
1 oz. Lady Betty wool, 3-ply (fingering weight).
1 pair Old UK No. 9 knitting needles. (US size 5, or 3.75mm)
Measurements
Length from top of shoulder, 10½ inches. Width all round at underarm, 15 inches.
Tension
To get these measurements, it is absolutely necessary to work at a tension to produce 8 sts. to the inch in width.
Pattern
The Front
Using the No. 9 needles, cast on 72 sts. Knit one row plain.
Proceed as follows:
1st Row: (K2tog) 4 times, * (yo, k1), 8 times, (k2tog) 8 times; repeat from * to the last 16 sts. (yo, k1) 8 times (k2tog) 4 times.
2nd Row: Purl.
3rd Row: Knit.
4th Row: Purl.
Repeat the last 4 rows three times.
Continue in rib of k2, p2 until ribbing measures 5 inches, then work from the 1st to the 4th rows four times **, proceed as follows:
* (k2, p2) 4 times, turn (16 sts)
Continue on these 16 sts in rib of k2, p2, for 4 inches. Cast off.
Join in the wool at the neck edge, and cast off 40 sts.
Work in rib of k2, p2, on the remaining 16 sts for 4 inches.
Cast off.
The Back
Work exactly as given for the front until you reach **. Cast off.
To Make Up
With a slightly damp cloth and warm iron, press lightly.
Join side seams to end of ribbing.
Join shoulder straps to back.
Crochet an edging round the neck and armholes as follows:
* 3 ch., 2 dc (US single crochet) into 1st stitch, 1 ch. miss 1 stitch, 2 d.c. into next 2 sts. repeat from * all round neck and sleeves. Note from Sarah: I advise against threading ribbon through the neck, as was done in the original pattern,  because it can tighten around baby's neck if it gets caught on anything.