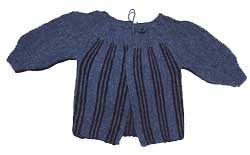 Sample was knit with approximately 140gm of crepe spun baby wool (yardage unknown) on 3.25mm needles and would fit a small new-born.
Gauge of sample
13sts and 28 rows to 5cm over garter st.
US Number 3 Needles/2 ply yarn
Original pattern was knit on size 3 needles, of 3 ply baby yarn and looks like it may fit new-born to three months. To make it bigger, just use appropriate yarn you want (such as knitting worsted) and then use the suggested needles and gauge for THAT yarn. Knitting worsted on US size 7 comes out bigger – maybe 6 to 9 months size
Pattern
Cast on 60 stitches.
Knit two rows on these 60 stitches.
Row 1: Knit 50 stitches, wrap and turn
Row 2: Pull yarn to back, slip one stitch (as if to purl) from left needle onto right needle, knit to other end (count this as the bottom).
Row 3: Knit complete 60 stitches to top or neck edge.
Row 4: Knit from neck edge to bottom edge; then go back to Row 1.
Continue these 4 rows until you have 30-35 ridges (depending on size you want).
Then knit 35 stitches and place on a stitch holder. Knit 15 stitches, keeping last 10 stitches same as before for yoke.
Knit down 25 stitches (including stitches for yoke), turn and cast on 30 stitches for sleeve.
Work 10 stitches at cuff edge same as yoke (Knit 45, slip one stitch from left needle onto right needle; turn and knit to other end).
When you have 25 ridges on cuff edge, bind off the 30 stitches you put
on for sleeve.
Slip the 35 stitches from holder and make back, same as front, always keeping the yoke the same.
When you have 65 ridges on the bottom of the back (don't forget to adjust the number of ridges if you previously adjusted them on the front) , Knit 35 stitches and put on a holder.
Make other sleeve.
Make other front.
Neck edge – pick up with # 1 needle at neck about 92 stitches. K2, P2 for 4 rows. Next row – K4, K2 tog across row to end. Knit one row. Then bind off.
Make 2 small chains (no longer than 12cm) and attach at neck edges to form tie.
---
This pattern is Copyright © Barbara Collins, all rights reserved. Adapted to fit guidelines as put forward by Australian research into sudden infant death syndrome by Sarah Bradberry.