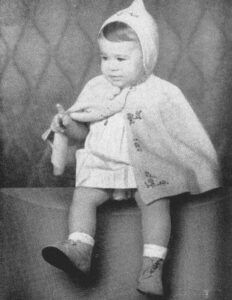 No. 803 – CAPE AND HOOD IN "SUMMER SKY BLUE" – Even the baby is thought of when it comes to knitting–perhaps more so than the adult–for here is baby's early fall cape and hood for those evenings when it is just a bit too cool for baby to be without some sort of covering. Here is a practical answer, and an answer soft and alluring. The embroidery on the cape and hood has that "smart touch" that gives the garment a look of regality–for his–or her–Royal Highness–the Baby.
Size
6 months to 1 year
Needles
1 pair American Standard No. 2. 1 Circular No. 4.
Material
Paradise Zephyr 10 ounces.
Gauge
6 sts to 1 inch.
Abbreviations
K – Knit
P – Purl
ch – Chain
h d c – Half double crochet
cr – Crochet
sl st – Slip stitch
rnd – Round
beg – Beginning
tr cr – Triple crochet
s c – Single crochet
d c – Double crochet
tog – Together
st – Stitch
sts – Stitches
y o – Yarn over
p – Picot
P.s.s.o. – Pass slip stitch over
*(asterisk). When this symbol appears, continue working until instructions refer you back to this symbol.
Even means that a row must be worked without increasing or decreasing.
Work means to continue with the stitch as described.
Half Double Crochet – Yarn over, draw up a loop in st, yarn over and draw through all 3 loops on hook.
Slip Stitch – Insert hook in next st, yarn over and draw through both loops on hook.
Blocking – Pin the garment, with rust proof pins, wrong side out, on a pressing board in exactly the measurements desired. Place a damp cloth over garment and with a moderately hot iron, press lightly, allowing the steam to go through. Lay on a flat surface until thoroughly dry.
Needle Gauge – When making a garment–work a swatch, using the needles called for to determine whether or not your work measures the same number of stitches to the inch as given in the scale. Change size of needles accordingly.
When Using Colors – In changing colors always K the first row on right side regardless of pattern.
Cape
Starting at neck, with No. 2 needles, cast on 76 sts K 1, P 1, for 3 rows. Beading: K 1, *Y O, K 2 tog, repeat from *across row. K 1, P 1 for 3 rows, cast on 2 sts. Change to No. 4 circular needle.
Yoke – Work in garter st (K each row).
Row 1–K 8, *inc 1 st, K 5, repeat from *across row to within last 8 sts, K 8. Do not inc in first and last 8 sts throughout yoke. Cast on 2 sts.
Row 2–K 1 row. Row 3–On next row, K back to within last 4 sts, bind off 2 sts for buttonhole, K 2.
On next row, cast on 2 sts over those bound off, K across row.
*Repeat Row 1 (but do not cast on the 2 sts).
K 3 rows even.
Repeat from *until you have 182 sts, working 2 more buttonholes, 1 inch apart.
On next row, K 24 sts, *slip 1 st, K 18 sts, repeat from *to within 25 sts, slip 1 st, K 24.
On next row, K 3, P to within last 3 sts (Purling the sl st), K 3, repeat these 2 rows for 1 inch.
On next K row, K 3, inc 1 st, K 9, inc 1 st, K 10, sl 1 st, continuing pattern across row, making an inc in center of each gore. Inc in 4th to last st same as beg of row.
Work even for 1 inch.
Inc in same manner every inch, until cape measures 11 inches from end of yoke.
K 12 rows, 6 ribs, bind off loosely on wrong side.
Cord–Ch 3, join, work 5 s c in ring. Work 2 s c in each st, until you have 12 s c. Work even until you have 5 rows. Fill with cotton. S c around decreasing a few sts in each row to close opening. Ch 24 inches. Make another ball in same manner and attach to 2nd end.
Hood
Starting at first half of neck edge, with No. 2 needles, cast on 42 sts, K 1, P 1 for 4 rows.
Change to No. 4 needles. *K 1 row, P 1 row for 1 inch always knitting first 4 sts on Purled rows for border at front.
Now K 2 sts tog at back edge, repeat from * until piece measures 5 inches, 37 sts. (measuring after the K 1, P 1 edge).
Work 1 inch even.
To start peak at top: Row 1–K 30 sts, turn.
Row 2 and all even rows, P back, slipping first st.
Row 3–K 24, turn.
Row 5–K 18, turn.
Row 7–K 12, turn.
Row 9–K 6, turn.
All sts are now on left hand needle (this completes half of hood). On next row starting at back, K 9 turn.
Following row: K 15, turn. Next row K 21, turn.
Continue in this manner, increasing 6 sts every other row, until you have 33 sts on right hand needle, turn.
P back and on next row, K 37.
Work other half to correspond increasing 1 st every inch at back edge.
Fold in half and sew seam.
Sew hood to cape, starting about 2 inches from beading at beg of cape, gathering across leaving 2 inches at end.