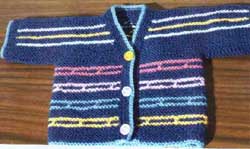 Materials
Less than 50g baby wool (I used Shepherd 3-ply baby wool)
Needles
3.75mm or size you require to give tension (gauge) of 6.5 sts per inch
Garment measures approx 13″ around. If knit with DK yarn and 4mm needles it will measure 18″ around.
Pattern
This garment is worked in one piece, so that there are no seams to irritate the small body.
Lower body:
Cast on 93 sts, work in garter st for 55 rows, working buttonholes on rows 39 and 53 as follows: k2tog, yo, k to end.
Right front and sleeve:
Knit 25 sts, cast on 18; leave all other sts on a length of spare wool.
Work 5 more rows on these 43 sts, then start v-neck shaping each 4th row inside 3 border sts – k3, k2tog, k to end.
Continue until 36 rows have been completed on sleeve (35 sts)
Cast off.
Left front and sleeve:
Slip last 25 sts from spare wool onto a needle, cast on 18, k to end.
Work same as right front with neck shaping as follows : K to last 5 sts, K2tog, k3.
Back and sleeves:
Slip remaining 43 body sts on to needle. Pick up and knit 18 sts from cast on edge of right sleeve, knit across 43 back sts, pick up and knit 18 sts from cast on edge of left sleeve. Knit straight for 36 rows.
Cast off 32 sts at beginning of next 2 rows. Knit 6 rows across remaining sts for back of neck. Cast off.
To complete
Join seams along top of sleeves, noting that 3 border sts on fronts are joined to sides of rows worked across back neck. (My preferred joining methods are grafting or 3 needle cast off from the right side.)
Notes and Variations
When casting on for sleeves use a loose cast-on or an invisible cast-on.
Incorporate any simple pattern into the garment – work about 9 rows before starting any pattern, and keep the 3 edge sts in garter st. A garter st lace pattern looks effective, or simple colour patts eg narrow stripes or slip st patts.
If doing multi-colour patts, omit the edge sts, i.e. cast on 87, and for fronts work 22 instead of 25. Omit rows at back of neck. Pick up sts around front edges and back of neck and work 5 rows, working buttonholes on right or left front as appropriate.
---
Copyright 1999 Lorraine J Major. You may copy this pattern for personal use, but neither the pattern nor any garment made from it may be sold except where the funds will benefit the babies. lmajor@xtra.co.nz