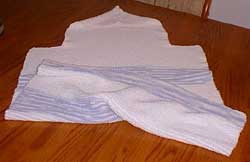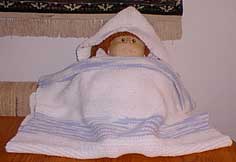 Materials
Size 10 US needles (6mm)
5 x 100gm balls worsted weight Lilly Cream and Sugar 100% cotton
Gauge
16sts and 26 rows to 10cm (4 inches) over garter st worked with Size 10 US needles
Size
31″ (77.5cm) x 27″ (67.5cm) (excluding the hood)
Pattern
Towel Body
Cast on 100 stitches on #6 mm needles
Knit 200 rows in gater or seed stitches, cast off.
Hood
For the hood, cast on 60sts and knit 5 rows in garter or seed st.
Knit 25 rows straight
Cast off 1 stitch at the end of the next 2 rows.
Repeat this every 5 rows until you have 40 stitches on your needle, cast off.
(Note from Deloris: I would change the pattern a little and cast off the hood at 44 stitches rather than 40)
Making Up
Fold the hood in half vertically and sew the cast off edge together.
Fold the towel in half and mark the middle. Sew the cast on edge of the hood to the towel, matching the centre of the towel to the centre of the hood.
To finish your towel you can do some embrodery on it or crochet all around the towel and hood.
You'll have a softer result if you wash it (before you do the embroidery or crochet) with a special mild washing soap for babies or kind of "zero".
Addendum: Sent to GLBT-knit March 3rd 2000
I made a few corrections to a better fitting hood
Cast on 75 stitches
knit 5 rows in garter or seed stitch
After 30 rows, cast off 1 stitch at the end of every other row until you
have 45 on your needle, cast off.
(you can keep casting off one stitch until you have 4 left, then cast off)
then, fold this piece in half and sew the diagonal line and the top. Sew the bottom of the hood to the middle of the blanket top.
Thats it!

It's suppose to give this form on the left (if you cast off to 45 sts) or that one on the right (if you cast off to 4 sts)
You can make a pompom or tassel and sew it on the hood
---
Copyright Paskale Soucy [email protected]. Photos and additional pattern information kindly supplied by, and copyright to Deloris N. Knutson. All rights reserved.