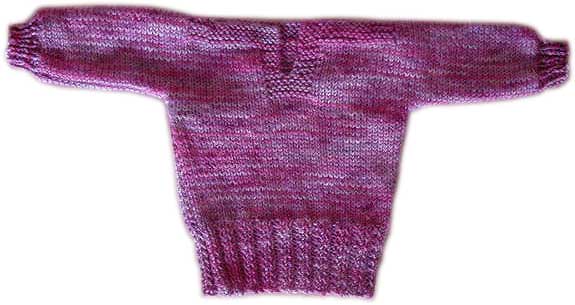 Materials
Dk weight (Aussie 8 ply) wool. Approximately 300m – 350m of yarn will make the small newborn size.
Thicker yarn will make a larger sizes but you will need more yardage. (see size and gauge notes below)
1 pair of 4mm needles if using dk weight yarn, or size needles to suit your yarn.
1-2 Buttons for larger sizes.
Size and Gauge
22sts to 10cm will fit 14" chest (small newborn)
20sts to 10cm will fit 15.5" chest
18sts to 10cm will fit 17.5" chest
16sts to 10cm will fit 20" chest
14sts to 10cm will fit 23" chest.
This jumper is knit back and forth in one piece and seamed along the length of the sleeves and down the sides.
Beginning at the bottom of the front
Cast on 44sts and work 18 rows K2, P2 twisted rib. (Knit into the back of the knit stitches)
Work 30 rows stocking stitch
Next row: Cast on 22sts for the sleeve, knit to the end of the row, cast on 22sts for the second sleeve. I like to use the half hitch or e-wrap cast on (twist a loop and put it on the needle). (88sts) Turn.
Next row: P40, k8, p40
Next row: Knit
Repeat these two rows twice more
Next row: P40, k8, p40
Divide for neck (left side of front)
K44, turn
K4, p40
Repeat the last two rows three times
Next row: K44, turn
Next row: k17, p27
Repeat last 2 rows three times more
Next row: K31, cast off 13
Right side of front
Break yarn and join to centre of front.
1st row: Knit
2nd row: P40, k4
Repeat these last 2 rows three times
Next row: K44, turn
Next row: P27, k17
Repeat last 2 rows three times more
Cast of 13, k31, turn
Back
P27, k4, cast on 26, k4, p27 across other sleeve.
Knit
P27, k34, p27
Repeat last 2 rows 3 times more
Work 14 rows st st
Cast off 22 sts at beginning of next 2 rows (the sleeves are now finished)
Work 30 rows st st
Work 18 rows twisted rib.
Cast off.
Cuffs
Pick up 33 sts along the end of the sleeves.
Next row: *K1, p2tog; repeat from * across
Work 6 rows k1, p1 rib
Cast off
Finishing
Sew side and sleeve seams
Add a button and a crochet button loop to the placket if desired.