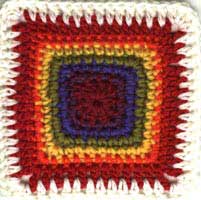 Materials
Scraps of dk weight yarn in the following colours:
White
Red
Orange
Yellow
Green
Blue
Indigo (bluish purple)
Violet (reddish purple)
4mm crochet hook
Tension
14dc = 10cm worked with a 4mm crochet hook.
Abbreviations
This pattern uses Australian/UK crochet terms
dc = double crochet (US single crochet)
tr = treble (US double crochet)
sl st = slip stitch
ch = chain
Pattern
Using violet, ch 3 and join into a ring.
1st round: 3ch, 11 tr into ring, join with a sl st to the 3rd ch at the beg of the round. Fasten off
2nd round: Join indigo, 1 ch, 1 dc in next tr, 3dc in next tr, * 1 dc in next tr, 1 dc in next tr, 3 dc in next tr; repeat from * twice more. Join with a sl st to chain at beg of round. Fasten off
3rd – 6th rounds: Continue working rounds in dc, working 3dc into each corner and following the rainbow colour sequence until you reach the end of the orange round.
7th round: Using red, work the next round in trebles, in each corner work 1tr, 2ch, 1 tr. Fasten off at the end of the round.
8th round: Join white and work the round in trebles, working 3tr into each corner. Join to beg of rouns with a sl st, fasten off
---
Copyright © Sarah Bradberry 2001