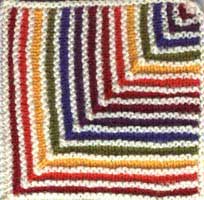 Materials
Note: This square must be knit with a yarn that can be ironed.
Scraps of the following colours in dk weight yarn
White
Red
Orange
Yellow
Green
Blue
Indigo (bluish purple)
Violet (reddish purple)
1pr 4mm knitting needles
Tension
Approx 22sts to 10cm worked over st st on 4mm needles
Abbreviations
Sl2, K1, PSSO = This is a double decrease knit thusly: insert your needle into the next 2 sts as if you were going to knit the two stitches together, slip them onto the right handle needle (instead of knitting them. Knit the next stitch. Pass the 2 slipped stitches over the knit stitch.
Pattern
Using white, cast on 61sts. Mark the centre stitch with a piece of coloured yarn.
1st row: Knit to within 1 st of the centre (on the first row this will be 29 sts and every decrease row after that will be one stitch less), Sl2, K1, PSSO, K to end
2nd row: Knit
3rd row: Using red, knit to within 1 st of the centre, Sl2, K1, PSSO, K to end
4th row: Purl
Repeat these four rows, always working rows 1 and 2 in white, and rows 3 and 4 in rainbow stripes. When you have 5sts left work as follows: K1, Sl2, K1, PSSO, K1
Next row: Knit
Next row (don't change colours): Sl2, K1, PSSO
Fasten off.
You'll notice that your square isn't exactly square. If you want to make your whole afghan using just this design continue as follows:
Cast on 30sts, pick up 1st at the bottom right hand edge of your first square. Pass the last 2 cast on sts over the first picked up stitch. Pick up a further 29sts. Knit 1 row. Continue following the square instructions from row 3.
If you're going to use your square as a single square in a sampler afghan neaten up the stretched side as follows:
Pick up a total 61sts up the right hand side of your square, and across the top. Next row: Cast off, working a double decrease at the corner stitch.
Iron and block according to the instructions on your yarn label.
---
Copyright © Sarah Bradberry 2001