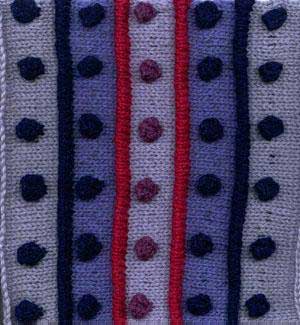 Materials
I used approx 50gm of oddments of 8 ply 100% Wool in various shades of pink, purple and blue.
Tension
20sts and 28 rows to 4 inches (10cm) over st-st on 4.5mm needles, or needles needed to obtain gauge.
Abbreviations
st-st = stocking st
MB = Make Bobble. (K1, P1, K1, P1, K1) into next st, turn,
P5, turn,
K5, turn,
P2tog, P1, P2tog, turn,
slip 1, K2tog, pass slipped st over.
Technique
Cast on 47 sts and work as follows:
Work 3 rows st st
*Work 3 rows st st, then make one row of bobbles thus: K3, (MB, K7) to last 4 sts, MB, K3
Work 5 rows st st beginning with a purl row.
** Change to piping colour and work 6 rows st st
Change back to background colour and knit the next row thus:
Using a spare needle, pick up all the loops on the back of your knitting that were formed by the first row of piping colour.
Knit one picked up stitch together with one st on your needle across the row. You should finish with 47 sts. This forms the piping.
*** Work from * to *** four times and from * to ** once.
Work 2 rows st st
Cast off neatly and block
---
Copyright © Sarah Bradberry, March 1998