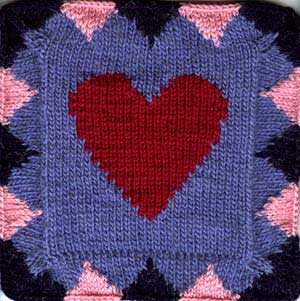 Materials
Total 45gm oddments of light blue, dark blue and pink 8 ply wool.
Tension
20sts and 28 rows to 4 inches (10cm) over st st on 4.5mm needles, or needles needed to obtain gauge.
Abbreviations
M = Make One. Pick up thread lying between sts and knit into the back of it.
Technique
Cast on 31 sts using background colour and work 6 rows st st
Work heart chart using the intarsia method, then work a further 5 rows st st in your background colour. Do not cast off.
Using DPN's or a 40cm circular needle, knit 31sts across needle, then
pick up 31sts along remaining 3 edges of square.
Follow the chart for edging and work using the intarsia method. (You
will have to turn at the end of each round instead of working circularly
or your yarn will not be in the correct position for the next round).

Cast off neatly, sew seam on edging, and block.
---
Copyright © Sarah Bradberry, May 1998