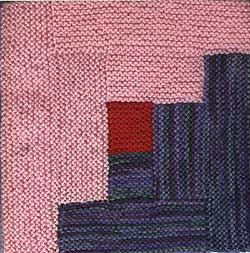 The sample square was knit in 3 colours only, but you can use as many colours as you like! I have provided some blank graphs to colour in (link at the bottom of this page)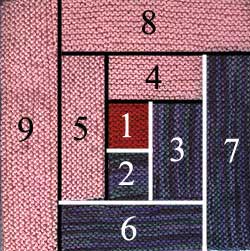 This diagram shows the order in which the stitches were picked up and knit
The sample square was knit with dk wool and 4mm needles and measures approximately 9 inches (22.5cm) square. If you knit one this size it will be totally interchangeable with any of the squares in the Odd-ball Sampler Afghan and the Cables and Lace Charity afghan project.
Method
Beginning at the centre of the square (the top of square 1 in the diagram), cast on 10sts and knit 20 rows.
Change to a dark colour and knit a further 20 rows, cast off (don't break the yarn, instead, pass the whole ball through the stitch and pull tight to fasten off).
Using the same dark yarn, pick up 20sts (1st per ridge). Knit 19 rows, cast off.
Following the diagram above, continue picking up stitches and knitting 19 rows until finished.
Section 4 will have 20sts.
Sections 5 and 6 will have 30sts.
Sections 7 and 8 will have 40sts and section 9 will have 50sts.
Check out some quilting books for different ways of combining colours!
View Some Sample Ways of Colouring & Sewing the Squares Together
Print a Blank Grid (Normal)
Print a Blank Grid (Rotated)
---
This pattern and all images on this page are Copyright © Sarah Bradberry 2000. All rights reserved.