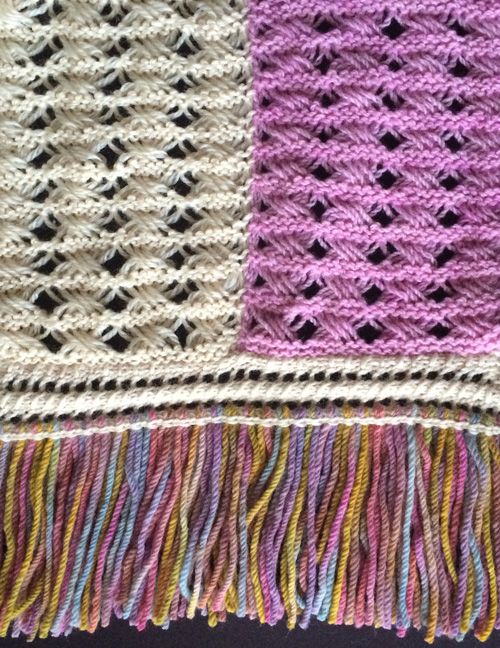 from "The Ladies' Guide to Elegant Lace Patterns, Etc."
A sample of two coloured strips, with the attached fringe.
Pattern
This afghan is knit in vertical strips 26 stitches wide and then sewn together.
The pattern calls for dk to worsted weight yarn in any two colours and either Old UK /US 8/Metric 4mm or Old UK 8/US 6/Metric 5mm needles. A more firmly spun yarn will look nicer than something spun loosely.
The sample was knit with dk weight yarns on 4mm needles. Each strip measures 14 cm/5¾ " wide.
The fringe threads were trimmed to 10 cm/4″ long after finishing.
The Centre Strips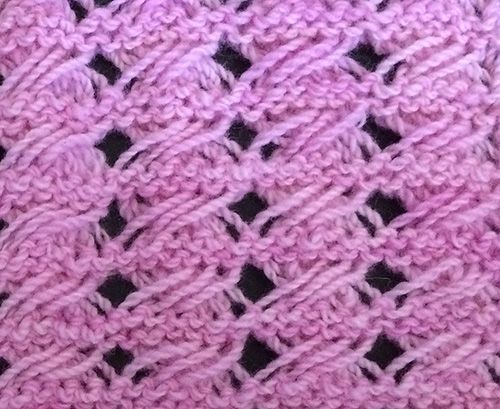 Cast on 26 stitches
Knit 3 rows.
4th row: Slip 1st stitch, now knit to the last stitch, winding the yarn around the needle four times instead of once. Knit the last stitch normally.
5th row: Slip the 1st stitch, take off and unwind 6 stitches onto the right hand needle. Pass the 4th, 5th and 6th stitches on the right hand needle over the first three and back onto the left hand needle. Slip the next three stitches back onto the left hand needle and knit them in the new order. Work the next 6 in the same way, and so on to the last stitch, k1.
Knit 2 rows
Th last 4 rows form the pattern. Knit for the desired length, knit one more row and cast off.
The Fringe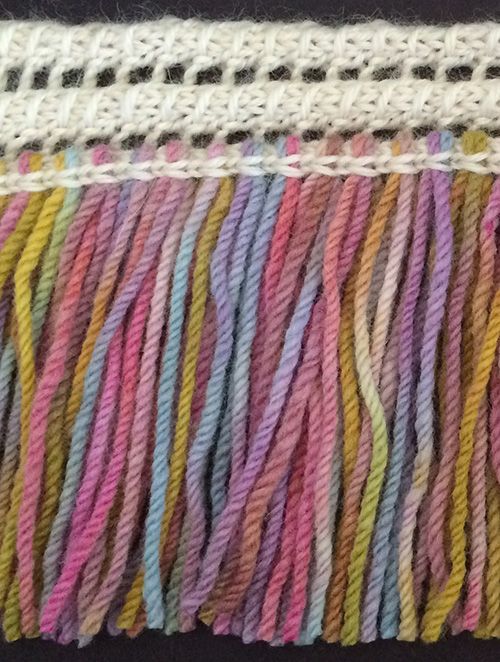 Cut the required number of threads for your fringe. The amount you need depends on the width of your finished afghan, whether you are adding fringe to all four sides or just the ends and the thickness of your fringe threads. Cut the threads approximately 10″ long for a 4″ fringe as they are doubled over and knit into the fringe as you go.
Note: This fringe has a tendency to bias so it's important to either knit at a slightly loose gauge for your chosen yarn or block your fringe before sewing it to the afghan.
Cast on 11 stitches.
1st Row: k3, *yo, k1,
slip 1, k2, pass the slipped stitch over; repeat from * once more
2nd row: Purl 8, lay 2 two threads of the fringe between the needles, p1, bring the threads at the back to the front, p1, pass all the threads
to the back, (which brings the fringe on the right side of the work), and purl the last stitch.
Repeat these two rows for the length desired.
To Make Up
Sew your strips together using an edge to edge stitch, crochet, or with another strip of knitting in between.
Sew the fringe to the ends, or all four sides if you wish.
---
The original publication of this pattern is in the public domain. However, this modernised version and all photographs are copyright Sarah Bradberry, September 24th 2014. All rights reserved.