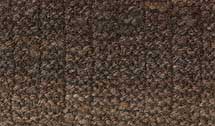 This swatch shows the stitch pattern knit with bulky homespun wool.
Materials
500gms of bulky wool or any yarn to suit gauge.
6.5mm needles
Gauge
18sts to 10cm over pattern stitch
Size
90cm long x 67.5cm wide
Pattern
Cast on 123 stitches and work as follows:
Knit 6 rows to form border,
Every row: *K3, P3; repeat to last 3 stitches, K3
Continue until work measures 88cm from cast on.
Knit 6 rows
Cast off.
Finishing: Darn in loose ends on wrong side and block
---
Copyright 2001 Sarah Bradberry Adapted from a 19th century source.