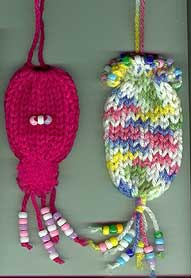 Pattern
Knit 16 or 20 rows with worsted weight yarn.
Take the sts off onto
a long piece of yarn to be used as the necklace, using a yarn needle.
Fasten down the yarn end at the top. Draw the bottom end closed.
Add a tiny pompom and/or dangles with beads. On the longer bag,
you can run the drawstring thru the knitting about 3 rows down from the
top edge and put beads around the top for decoration.
---
Image and pattern Copyright Ann Yotter, all rights reserved