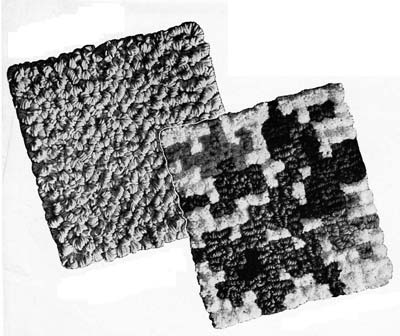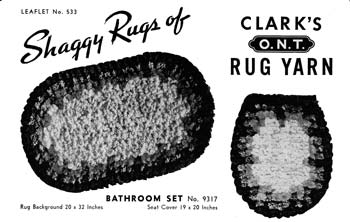 This leaflet contains the four patterns shown here. A rug and matching toilet seat cover and two rug tiles for making mix and match rugs.
It contains full instructions on making and using your own "bundle winder" for making the tufts. The bundle winder can easily be cut from thick plastic or cardboard.
The yarn used in this booklet is worsted weight, 4 ply cotton.
You will need to enlarge the patterns so they match the dimensions mentioned.
The designs include:
"Bathroom Set" rug and matching toilet seat cover
"Plain Square"
"Floral Garden Square"

 Download the leaflet in pdf format
---
Copyright Sarah Bradberry, June 15th 2014. All rights reserved.