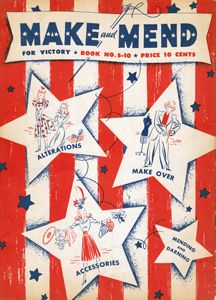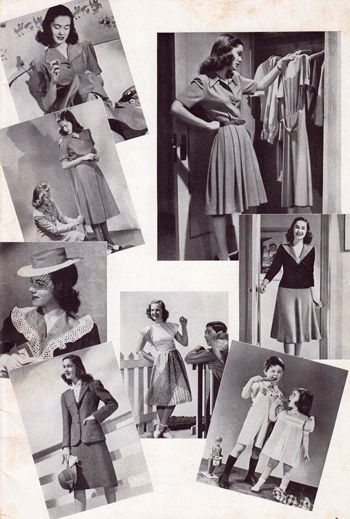 In Britain during World War 2 remaking and mending clothing was a necessity due to clothing and material shortages but in the US it was seen as a woman's patriotic duty to leave as many resources available to the war effort as possible. This 50 page booklet is packed with information on every way a garment could be made to last, whether by mending it, redesigning it to fit in with the latest fashions, accessorising it to make it as useful as possible in different situations or making it into something else entirely.
In "Make and Mend for Victory" you'll find:
Life Extension. How to mend and patch everything from stockings and girdles to hemming and repairing holes in jackets and suits.
Fit for Anything. Alterations and restyling. Bring your clothing up to date with the latest fashions and make alterations to hand me downs for the perfect fit.
Variety is the Spice of Life. Maximising your wardrobe by accessorising. Patterns for making dickies and button on collars and cuffs to give a simple outfit many looks.
Smart Headwork. Take a ball of yarn and a scrap of fabric to restyle and make hats, snoods and hair accessories, some with matching bags. Includes crochet, knitting and sewing patterns.
Telling Trifles. Make dramatic changes with little more than a small amount of thread or yarn plus how to make a halter top or skirt from bandannas or patch-worked scraps.
Cutting Up in a Big Way. How to take apart old garments. Cutting plans for making clothing for women and children out of discarded men's garments, dresses, skirts and shirts. How to reclaim used wool.
Suggestions for Easy Sewing. A refresher of sewing basics. Cutting, basting, seams and seam finishes, gathering, important stitches, pressing, cutting and applying bias binding and a full chat with fabrics and appropriate needles and threads to use for each.

 Download "Make and Mend for Victory"
---
Copyright Sarah Bradberry, June 16th 2014. All rights reserved.