aka The Good Needlework Third Gift-Book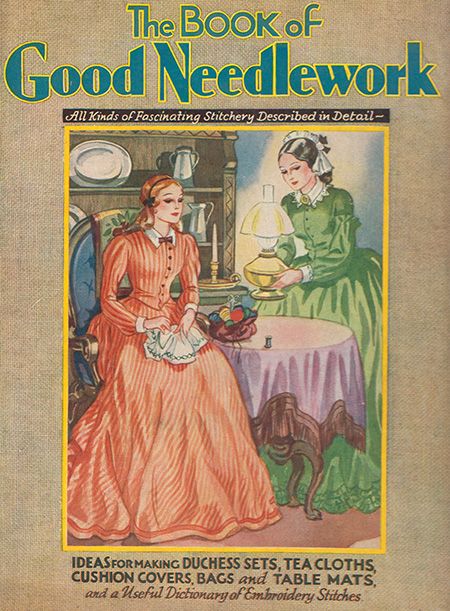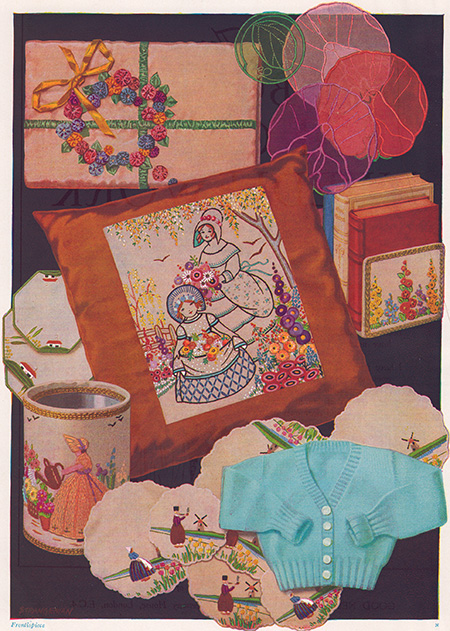 In the early 1930's Good Needlework and Knitting magazine released a series of books to promote their vast range of iron on embroidery transfers. They included every type of embroidery project imaginable, from doilies and table runners, bags, book covers and desk blotters to curtains and lingerie.
This is the third book in the series and, like the other books, it contains a large number of embroidery projects including tea and coffee cosies, cushions, table runners and doilies.
This volume includes a particularly nice selection of bags to make, ranging from cute hessian clutch purses with daisies, embroidered work bags that are a work of art themselves, to a lovely ruched satin evening bag with hand sewn flower and even one that looks like a flower all by itself! Described as "an exquisite trifle in organdie to carry with an evening dress", it's the height of vintage handmade glamour.
The little cardigan shown in the frontspiece from the book is just one of the knit and crochet projects and the pattern includes a range of sizes to fit from birth to age 6.
These are just a selection of the patterns that include everything from bookends to donkeys, dollies to slippers, work bags to embroidered boxes. Most, if not all, of the projects can be made without the need for the original transfers. Just print the appropriate page, trace off the design and start embroidering! Some will need to be enlarged but that is easy to do by photocopying or scanning.
Five books were published in this series and I've made them all available on my embroidery page.

 Download "The Book of Good Needlework" (aka The Good Needlework Gift Book No.3)
---
Copyright Sarah Bradberry, May 5th, 2014. All rights reserved.