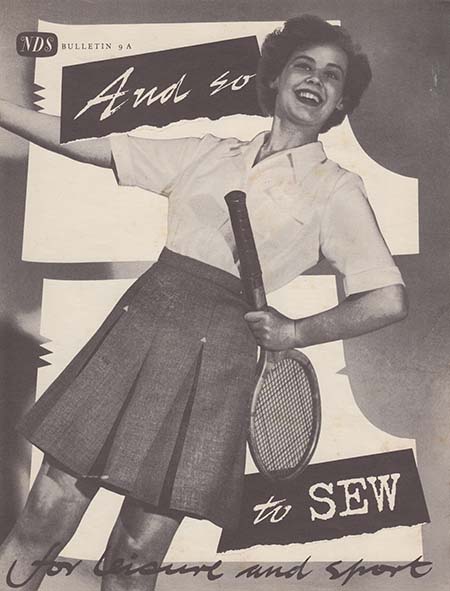 Leaflet 9a in the Needlework Development Scheme's series "And So To Sew" includes techniques used when sewing leisure and sportswear from commercial patterns.
Matching checked fabrics
Inverted pleats
Finishing seams with binding
Simple plackets (reinforcing a placket formed in a seam before adding hooks and eyes)
Attaching a petersham waist band
Hem finish with Paris binding
Placket with extension
Arrowhead tacks
Fastening off threads when machine stitching

 Download "And So To Sew" bulletin 9a
Modern Tutorials
Since we don't all have a home ec teacher to help with any questions we might have, I'm adding modern video and photo tutorials for each technique wherever possible.
Pattern Matching Fabrics Playlist by Made to Sew
Forming Inverted Pleats by Colleen G Lea
Finishing Seams with Binding aka the Hong Kong Finish by FABRICate
When ironing your finished seam open, be gentle so as not to create a line where the seam allowance sits. I use the tip of my iron to iron the seam only so as not to leave a line.
Attaching a Petersham (Grossgrain) Waist-band by Sunni Standing
Hem Finish with Paris Binding by Sew HoneyBea
This video uses lace hemming tape, but you can also use bias hemming tape.
Placket with Extension
Hidden placket opening tutorial from HistoricalSewing.com
Arrowhead Tacks
Arrowhead tack tutorial from Colette