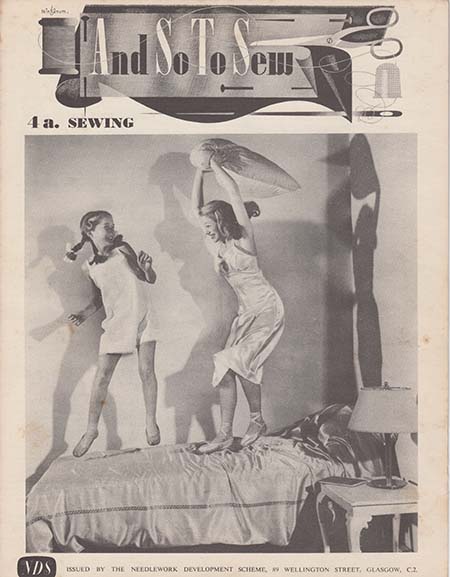 Leaflet 4a in the Needlework Development Scheme's series "And So To Sew" includes:
Patterns for girl's lace trimmed and teen's shell edge dress slips. Both patterns can be used to sew simple modern summer dresses.
A short guide to rayon and rayon fabrics
Hand sewing a lace edging
Fabric mitre in lingerie
Plain lapped, overlaid or top stitched seam
French seams
Continuous opening bound with bias tape
Rouleau
Shell edging (hand sewn)
Shell edged rouleau with bar fagotting

 Download "And So to Sew" leaflet 4a
Modern Tutorials
The "And So To Sew" series was initially intended for use in classrooms. Since most of us don't have a sewing teacher available to us today, I've included these modern tutorials to help answer any additional questions.
Sewing a Lace Edging by Sarah Classic Sewing (machine sewing)
Fabric Mitres
The perfect mitred corner from By Hand London (photo tutorial)
Plain Lapped, Overlaid or Top Stitched Seam by Needlepointers
French Seams by Angela Wolf
Continuous Placket Bound with Bias Tape
Simple continuous bound placket tutorial from Sewaholic
Rouleau by Professor Pincushion
Shell Edging
Shell hem edge tutorial by hand from Threads Magazine (photo tutorial)