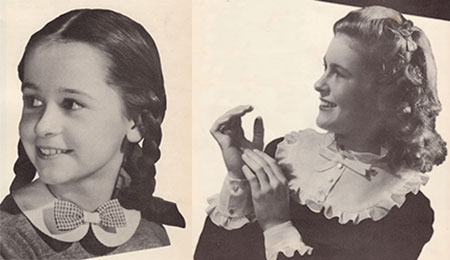 Leaflet 2a in the Needlework Development Scheme's series "And So To Sew" includes:
Two collar patterns, one with ruffles and matching cuffs
Terms and techniques including:

Selvages
French tacking
Basting
Back Stitch
Machine sewing tips
Slip stitching (hems)
Creating (folding) a hem
Bias strips
Rolled hems
Buttonholes
Buttons (positioning and sewing)
Overcasting
Press studs (aka poppers)
Blanket stitch

A description of cotton, cotton fabrics and their basic laundering
How to enlarge and cut out the patterns supplied.

 Download "And So To Sew" leaflet 2a
Modern Tutorials
Since these leaflets were originally intended to be used by teachers, I am including some modern tutorials since anyone downloading them probably won't have a teacher to help.
Basting by Colleen G Lea
Back Stitch by Red Ted Art
Slip Stitch Hems and Folding a Hem by Angela Wolf
Hand Sew a Rolled Hem by Threads
This is slightly different to the instructions from the leaflet, but I think it's easier to work.
How to Sew Buttonhole Stitch
A buttonhole stitch photo tutorial from Sarah's Hand Embroidery
Overcasting by Colleen G Lea
Blanket stitch by Mary Corbet
Note: this is blanket stitch. The buttonhole stitch tutorial above is a different stitch. The names tend to be interchangeable in embroidery these days, but in garment sewing they are two different, although related, stitches.