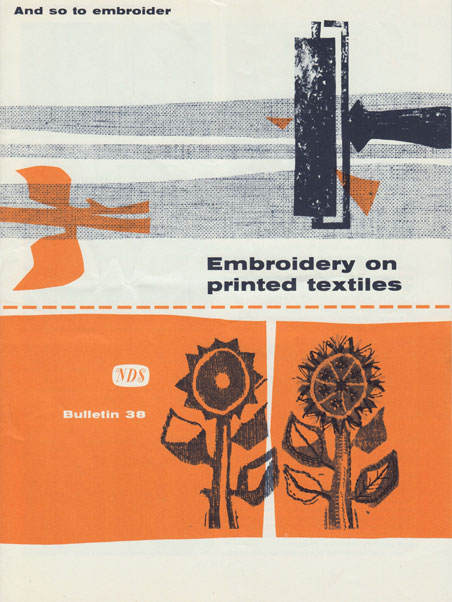 As a print maker, leaflet 38 is one of my favourites in the Needlework Development Scheme's series "And So To Embroider". It contains information on working embroidery on printed fabrics, whether they be purchased, or hand printed. It also includes basic information on printing your own designs using potato printing or linocuts.
Four designs to print and embroider are included that you can play with, but you are also encouraged to design your own using the cut paper technique from embroidery leaflet 11b

Download "And So To Embroider" bulletin 38
Modern Tutorials
There are so many more options for printing on fabric that are easily accessible today than there were in the 1950's. I've included a few other techniques that I enjoy.
Potato Printing on Fabric by the Craft Channel
If you have a collection of regular acrylic artist's paint, investing in a bottle of fabric medium will let you use them for fabric printing as well. Just mix a little with your paint according to the instructions on the bottle.
I find a foam roller is also a great way to get the paint onto the potato.
Block Printing on Fabric by Stitch Craft Create
Gelli Printing on Fabric with Gelli Arts
This tutorial covers a LOT of different techniques. The main idea is to have fun and see what you come up with!
Block Printing with Traditional Indian Wooden Blocks by DesiCrafts
If you don't want to carve your own blocks for printing fabric, you can buy a huge number of designs on Ebay. New ones are quite inexpensive and will last for a very, very long time. You can use this technique with any fabric ink that says it's suitable for block printing.