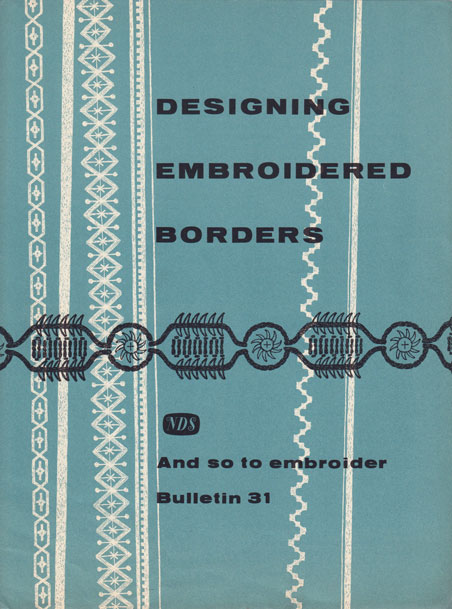 Leaflet 31 in the Needlework Development Scheme's series "And So To Embroider" covers different ways to create your own border designs in embroidery to suit different types of fabric such as even-weave, felt and checked fabrics.
The sample projects include:
A cross stitch table runner worked on even-weave fabric with several different designs to choose from
Child's dress in checked fabric with borders on the hem and a smocked bodice (see And So To Embroider bulletin 21b for information on smocking children's dresses)
Felt comb case. The border treatment is shown worked in three different ways
A simple satin stitch border worked on coarsely woven even-weave fabric
Girl's woollen hat with embroidered felt crown. (Pattern included). Two corner treatments for the design are also shown.
Tray cloth with blackwork border.

Download "And So To Embroider" bulletin 31
Modern Tutorials
This series of twelve videos from Sarah Homfray covers the materials, techniques and a range of stitches used in blackwork embroidery.
Blackwork Embroidery. A Series of Videos by Sarah Homfray